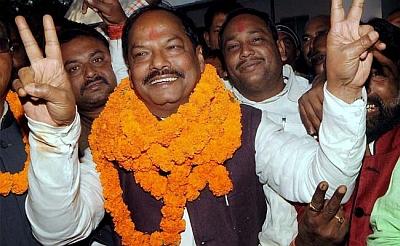 Raghuvar Das, the national vice president of the Bharatiya Janata Party, will be the first non-tribal chief minister of Jharkhand after he was elected the leader of BJP legislative party.
BJP observer J P Nadda said after the legislature party meeting that Das' name was proposed by Sarayu Roy, another frontrunner for the post and C P Singh. It was supported by all the party MLAs.

Das is also a former deputy chief minister of the state.
Former chief minister Arjun Munda said Das will stake claim to form the BJP- All Jharkhand Students' Union party government.
The BJP-ASJU alliance had won a majority in the recent assembly polls bagging 42 out of the total 81 seats.
Das had been a frontrunner for the top job after former CM Arjun Munda lost the elections from his stronghold Kharsawan.
He will be the 10th chief minister of the state. He is a five-time MLA from Jamshedpur east and was the urban development minister during the National Democratic Alliance government in the state. He became a minister in the Jharkhand government for the first time in 2000.
Originally from Chhattisgarh, Das was born and brought up in Jamshedpur. Das began his career as a labourer in Tata Steel.

With inputs from PTI

Image: Raghuvar Das receives a warm welcome in Ranchi, Jharkhand by BJP supporters. Photograph: PTI