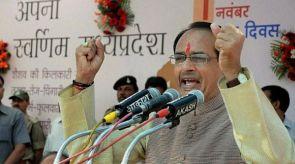 Overcoming anti-incumbency factor, the Bharatiya Janata Party on Sunday secured a two-thirds majority in the Assembly elections in Madhya Pradesh winning 165 seats in the 230-member House.
Congress, which was hoping to wrest control of the state after a gap of 10 years, finished with 58 seats.
Mayawati's Bahujan Samaj Party won 4 seats and Independents three.
Though BJP's showing in the current election is an improvement on its performance in 2008 polls when it had bagged 143 seats against Congress' 71, it still falls short of the impressive figure of 173 in 2003 when led by firebrand sannyasin Uma Bharti, it had secured a three-fourths majority.
Congress had then put up a pathetic performance with a tally of 38.
BJP's landslide victory, however, was marred by the loss suffered by at least 10 of its ministers at the hustings.
Though Chief Minister Shivraj Singh Chouhan won his Budhni seat by a whopping 84,805 votes and Vidisha by nearly 17,000 votes, several of his ministers lost.
Prominent ministers those who bit the dust were Public Relations and Culture Minister Laxmikant Sharma from Sironj; Medical Education Minister and a nephew of BJP patriarch Atal Behari Vajpayee, Anoop Mishra (Bhitawrar); Tourism Minister, Brajendra Pratap Singh (Pawai); Labour Minister Jagannath Singh (Chitrangi) and Revenue Minister, Karan Singh (Icchawar).
Minister of State for Tribal Welfare Harishankar Khatik (Jatara), Agriculture Minister Ramkrishna Kusumaria (Rajnagar), General Administration Minister Kanhaiyalal Agrawal (Bamori), Animal Husbandry Minister Ajay Vishnoi (Patan), besides Dashrath Singh Lodhi (Jabera) too fell by the wayside.
BJP leaders said these ministers have lost because of an anti-incumbency factor prevailing against them.
In the run up to the polls, BJP General Secretary Inchagre of Madhya Pradesh Anant Kumar had admitted that there was an "anti-incumbency wave" against some ministers and MLAs. The party had denied tickets to 44 sitting MLAs.
Ministers in the Chouhan government including veteran Babulal Gaur, state's Urban Development Minister and a former Chief Minister, besides Kailash Vijayvargiya, Sartaj Singh, Narottam Mishra and Rajendra Shukla were among those who retained their seats.
Gaur created a record by winning his traditional Govindpura seat for 10th time in a row, trouncing state Congress General Secretary Govind Goyal by a margin of 70,644 votes.
BJP's Yashodhara Raje Scindia, a sitting MP from Gwalior, won the Shivpuri seat.
First-time winners include Congress General Secretary Digvijay Singh's son Jaiwardhan from Raghogarh.
Among prominent losers from Congress was Suresh Pachouri, a former Union minister and state party chief, from Bhojpur.