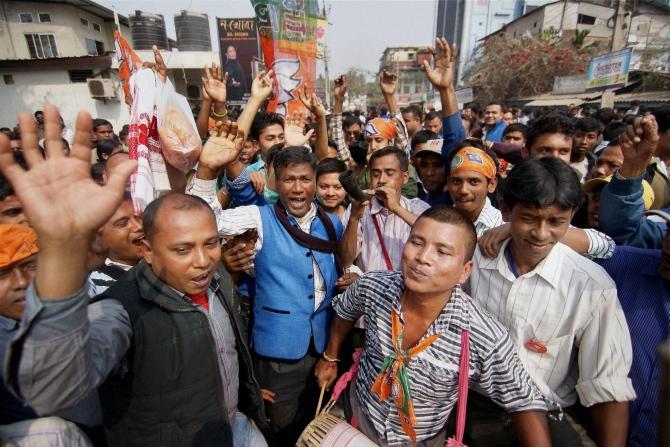 Bharatiya Janata Party supporters celebrate the party's win in municipality poll in Nagaon district of Assam. Photograph: PTI Photo
The outcome of urban civic election in Assam has provided the Bharatiya Janata Party with some reasons to smile about after the Delhi debacle. The party has so far won in 38 bodies out of the total 74, while the Congress has won in 17.
The Assam State Election Commission has declared results in respect of 72 out of the total 74 municipal bodies while results of Silchar and Golaghat are being awaited. The Asom Gana Parishad has won in two bodies while the Nationalist Congress Party in one.
No party could attain majority in 10 of the bodies. The BJP has won in Gohpur, Biswanath Chariali, Rangapara, Bihpuria, Sarupathar, Barpathar, Abhayapuri, Nazira, Lala, Lakhipur (Cachar), Chabua, Tihu, Badarpur, Nalbari, Dergaon, Pathsala, Kharupetia, Naharkatia, Margherita, Palashbari, Jorhat, Sarthebari, Dhemaji, Dibrugarh, Hojai, Dhekiajuli, Barpeta Road, Bilasipara, Sapatgram, Lumding, Raha, Namrup, Doomdooma, Lakwa, Dhubri, Gauripur, Nagaon, Tezpur.
The Congress has won in Narayanpur, Teok, Moran, Morigaon, Karimganj, Hailakandi, North Guwahati, Amguri, Lakhipur (Goalpara), Titabor, Mangaldoi, Howli, Chapakhowa, Lakhimpur, Daboka, Makum and Tinsukia.
The AGP has won in Patacharkuchi and Bongaigaon while the NCP in Mariani. The Congress and the BJP tied in Simaluguri, Dhakuwakhana, Sonari, Digboi. No party has won majority in Bokakhat, Rangiya, Sibsagar, Kampur, Sarbhog, Silapathar, Chapor, Goalpara and DhingThe Congress was in power in 67 of the 74 urban civic bodies after winning 517 wards out of the total 746 wards in the last urban bodies election while the BJP was not in power in any of the urban bodies last time.
"Our poll strategy and hard work has paid off. We are sure to win the assembly elections in 2016," he said.
On the other hand, Congress leader and Assam Chief Minister Tarun Gogoi said that the results had indicated that urban voters who had drifted away from the Congress during the last Lok Sabha polls once again came back to support the Congress which is set to win a sizeable number of urban wards as per the results so far declared.
Assam Pradesh Congress Committee president Anjan Dutta said, "We are happy that a sizeable section of urban voters who had voted for the BJP in Lok Sabha polls, has voted for the Congress in the civic polls."
Gogoi had earlier said that results of urban civic poll could not be an indicator for the assembly election next year, given that only 14 lakh urban voters are involved in the civic polls.