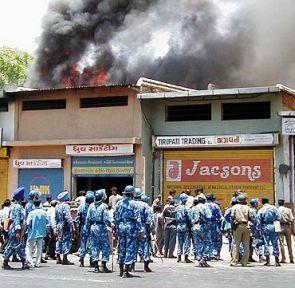 Asserting that the Communal Violence Bill will create bitterness among people, Bharatiya Janata Party president Rajnath Singh on Tuesday said his party would oppose it in Parliament as well as outside.
"The Communal Violence Bill will damage the social fabric of the country. It will create bitterness among people. We cannot accept it under any circumstances. BJP will oppose the Bill in Parliament as well as outside," Singh told reporters.
The 'Prevention of Communal and Targeted Violence (Access to Justice and Reparations) Bill', 2013, was on Monday cleared by the Union Cabinet after removal of certain provisions, reducing the role of the legislation in handling of riots and making it neutral between communities.
BJP's prime ministerial candidate Narendra Modi has also expressed opposition to the Bill. He had written to Prime Minister Manmohan Singh some days back, saying "Communal Violence Bill is ill-conceived, poorly drafted and a recipe for disaster."
He had also written to Chief Ministers of different states asking them to oppose the Bill.
The Bill, in its initial avatar, had mentioned that the onus of riots would be on the majority community. However, after much hue and cry by BJP and some other parties, this provision was amended and has now been made neutral between all groups or communities.
In the wake of apprehensions over the proposed law, government sources had earlier claimed that the Bill would not adversely affect the federal structure of the country and the central government's role would largely be of coordination and would act only when the state government sought help.