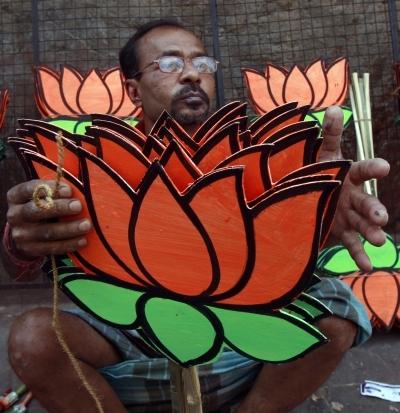 To involve workers in various social campaigns initiated by Prime Minister Narendra Modi, Bharatiya Janata Party president Amit Shah has formed nine separate committees of senior leaders.
The panels will look after initiatives to help the party such as mass contact programme as well social campaigns like Clean India plan, Namami Ganga and 'Beti Bachao, Beti Padhao'.
The disciplinary committee is headed by Haryana leader Ganeshi Lal, its other members are Vijaya Chakrawarty, an MP from Assam, and Satya Dev Singh, ex-MP from UP.
The panel to take care of office construction includes Mangeram Garg, Piyush Goel, Saudan Singh, Rakesh Kumar Jain and Baldev Raj Sharma.
The Aajivan Sahayog Nidhi panel will have Ashok Dhawan, Anil Jain, Shyam Jaju and Anil Goel as its members, while the Sampark Abhiyan to connect with 10-crore new members will have Bhupendra Yadav, Saroj Pandey, B L Santosh and Kailash Vijayvargiya as its members.
The training committee includes Murlidhar Rao, V Satish Ram Pyare Pandey, Mahesh Sharma, L Ganeshan, Balashankar and Suresh Pujari.
The office modernisation panel includes Arun Singh, Poonam Mahajan, Mahendra Pandey, Arun Jain and Mohan Rajulu.
The committee for the Swachhta Abhiyan has party leaders Prabhat Jha, Purushottam Rupala, JP Nadda, Vijay Goel and Makhan Singh, while that the Beti Bachao-Beti Padhao has Rajendra Phadke, Renu Devi, Nirmala Sitaraman, H Raja, Tarun Chugh and B S Mathur.
The Namami Gange panel will have Trivendra Rawat, Prakash Javadekar, Uma Bharti, Rajneesh Kumar, Shivprakash and Hridaynath Singh.