The Bharatiya Janata Party is looking to inject a sense of cohesion in its organisation in election-bound states like Madhya Pradesh and Telangana, where factionalism has become an issue, and expand the ruling National Democratic Alliance amid the brainstorming among its senior leader over organisational matters.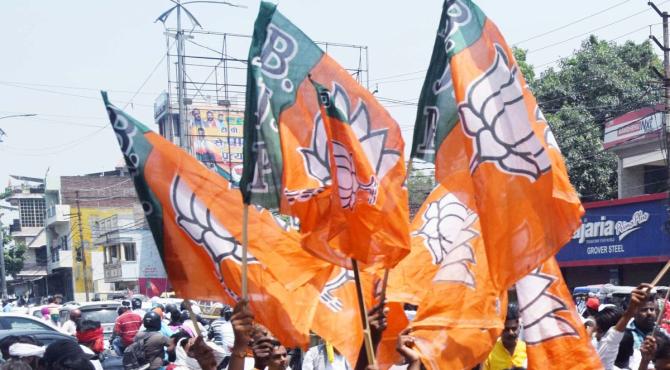 Another issue on the party's agenda is the expansion of the ruling NDA, which has seen steady depletion in the recent years with traditional BJP allies like the Janata Dal-United and Akali Dal leaving the grouping.
The recent meeting between Telugu Desam Party, which had left the NDA in 2018, supremo N Chandrababu Naidu and Home Minister Amit Shah has sparked buzz about the revival of ties, something the Andhra Pradesh leader has been pursuing assiduously.
An 'expanded' NDA may meet soon, a BJP leader said. But it remains to be seen if the BJP will formally join hands with the Telugu Desam Party as it has also had good equations with the state's Chief Minister Jagan Mohan Reddy.
An alliance between the two parties may push Reddy's Yuvajana Sramika Rythu Congress into the opposition camp.
It is a call top party leaders will take, BJP sources said on the possibility of their alliance with the TDP.
While the party has been working on its plans to retain power at the Centre in the 2024 Lok Sabha polls, upcoming state polls are also an immediately priority, more so after the loss it faced in Karnataka from the Congress, which will be its main challenger in three of the four big assembly polls scheduled for this year.
Assembly polls are also due this year in Rajasthan and Chhattisgarh, both Congress-ruled states.
The term of BJP's Madhya Pradesh president V D Sharma has completed, and his less than warm relations with Chief Minister Shivraj Singh Chouhan means that its organisation, which has traditionally been known to be among its strongest state units, is not in the best of shape.
With an energised Congress eying a return to power in the state, the BJP leadership may effect some changes, sources said.
They said the BJP's rising graph in Telangana has suffered setbacks of late, with a number of local satraps complaining against the leadership style of its state president Bandi Sanjay Kumar.
A senior party leader praised Kumar's 'ideological firmness' and 'hardwork' to rejuvenate the organisation but added that he has been not able to take along everyone, especially strong local leaders who have joined the BJP from other parties in the last few years.
The Congress' win in Karnataka has energised its ranks and its focus to boost its presence in neighbouring Telangana after years of marginalisation has added to the BJP's worry, with the ruling Bharat Rashtra Samiti also going all out to retain power.
The BJP's drive to get bigwigs from other parties to join it in the state has not paid much dividends in the last few months, an issue which has been discussed within the organisation, sources said.
Incidentally, Kumar's three-year term as party president has got over and its national leadership has to decide, as in Madhya Pradesh too, if it will continue with him till the assembly elections or not.
Another state where the party has to take a call on organisational rejig is Karnataka where it is yet to appoint a leader of opposition.
It may also replace its state unit president Nalin Kumar Kateel.
His term has got over months back but the party continued with him due to the elections, which were held in May.
Home Minister Shah, BJP president J P Nadda and the party's national general secretary (organisation) B L Santhosh have held marathon meetings on Monday and Tuesday over a host of organisational issues.
Sources said the meetings took stock of the political situation and organisational affairs.
The BJP may effect some changes in its organisation in some states and assign new roles to its office-bearers.