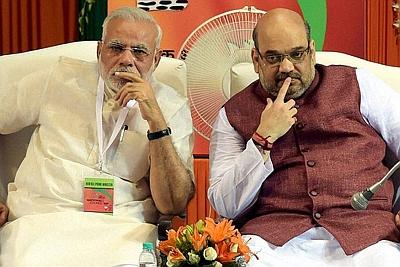 As speculations on successor of Gujarat Chief Minister Anandiben Patel reached a fever pitch, BJP central leaders will arrive in Ahmedabad on Wednesday to assess the ground situation and to find the successor of Patel.
In Delhi, BJP Parliamentary Board is meeting on Wednesday when it is likely to accept Patel's offer to resign and begin the process of picking up her successor.
Gujarat BJP in-charge Dinesh Sharma and national joint general secretary (organisation) V Satish, are scheduled to arrive in Ahmedabad to hold talks with local leaders in the wake of Patel, the first woman Chief Minister of Gujarat, announcing her decision to step down on Monday.
It is believed that Sharma and Satish will prepare a detailed report after taking into account the views of local leaders before finalising name of next CM.
Though the decision is to be taken at the "highest level" of the BJP leadership, the names doing the rounds as potential successor to Patel include the "number two" in the cabinet and Health minister Nitin Patel, state BJP chief Vijay Rupani, Union minister Purshottam Rupala and Assembly Speaker Ganpat Vasava, a tribal leader.
According to sources, BJP workers are inclined to see party president Amit Shah taking the reigns from Patel to revive BJP's falling stock.
Under Patel, the saffron party had suffered a humiliated setback in civic polls. The BJP also antagonised its loyal vote bank of Patidars who have been demanding OBC quota and staged violent protests last year.
Of late, the flogging of Dalits at Una also caused a massive unrest, denting further the party's image.
Meanwhile, Nitin Patel said the central leadership will take the decision on Patel's successor which will be acceptable to everyone.
Rupani said he was ready to carry out whatever responsibility his party assigns him to.
Patel on Monday took to Facebook to request the BJP leadership to relieve her of the job, saying it was time for new leaders to take over as she is soon turning 75.
Gleeing at BJP's discomfiture, Congress vice-president Rahul Gandhi on Tuesday said that "making Patel a scapegoat would not save the BJP in Gujarat as the 13-year Narendra Modi rule in the state was responsible for its burning."
Senior Congress leader Shankersinh Vaghela said Modi and Shah did a "political encounter" of Patel by "forcing" her to quit.
AAP leader Ashutosh said that replacing a "puppet" with another will not make a difference unless the "mastermind" is removed.