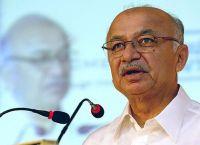 The Bharatiya Janata Party on Friday decided to boycott all public programmes of Home Minister Sushilkumar Shinde and not respond to any communication from him to the party top brass in his capacity as Leader of the House in Lok Sabha to protest against his Hindu terror remarks till he tenders an apology.
The decision was taken in the first Core Group meeting of BJP after Rajnath Singh took over as party president on January 23.
"The core group observed that Shinde's remarks have hurt Hindu sentiments and called Hindus and saints terrorists. It condemned his comments that BJP and RSS run terror training camps. The party has decided that its members and workers will boycott all public programmes in which Shinde is taking part. He will be shown black flags," BJP General Secretary Ananth Kumar told reporters.
BJP will also not respond to any communication or request for meetings from Shinde to the party's senior parliamentarians, including NDA Working Chairperson L K Advani and Leader of the Opposition in Lok Sabha Sushma Swaraj.
Shinde, who is Leader of the House in Lok Sabha, may find it difficult to get government business through during the forthcoming budget session of Parliament if BJP does not respond to his calls for discussions on crucial issues.
However, Rajnath Singh said his party does not intend to boycott Shinde inside Parliament and will not disrupt proceedings when he rises to speak.
"But we will raise this issue (Shinde's remarks on Hindu terror) in Parliament," he said.
Significantly, this strategy of BJP appears to be a slight climbdown as the party had earlier insisted that Prime Minister Manmohan Singh and UPA Chairperson Sonia Gandhi should apologise for Shinde's remarks and that he should be sacked from the post of home minister.
Shinde had alleged in the Congress Chintan Shivir in Jaipur earlier this month that BJP and RSS were involved in training their cadre in terror activities and those allegedly involved in Hindu terror acts were affiliated to them.
Ananth Kumar maintained Shinde's remarks have hurt Hindu sentiments.
"Shinde should take back his statement and apologise. His remarks show the anti-Hindu sentiments of Congress. BJP will not tolerate this," he said.
Angered by Shinde's remarks, RSS has conveyed to BJP to take up the issue vociferously against Congress.
BJP leaders were optimistic that with 20 days to go before the budget session of Parliament begins, Shinde is likely to express regret for his comments. Some of the seniormost leaders of BJP are not in favour of disrupting Parliament on this issue.
The core group also discussed the developments in Karnataka where the Jagadish Shettar government faces a crisis due to resignations of MLAs belonging to former Chief Minister B S Yeddyurappa's camp. Party leaders, however, insisted a way would be found and there is no imminent threat to the government.
BJP is also likely to announce a new leader of the opposition in Rajasthan assembly and may declare Vasundhara Raje as the next chief ministerial candidate and party state unit president. However, there are still some unresolved issues and hiccups, sources said.
Kumar said BJP will announce tomorrow the venue and date for the next party council and executive meet which will ratify Rajnath Singh's election as party president. The conclave is likely to be held in the third week of February in Bhopal or Raipur.