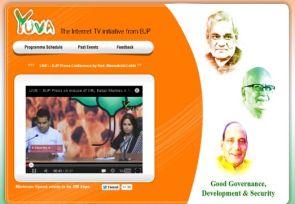 In a bid to tap the sizable youth population of the country ahead of the 2014 Lok Sabha polls, Bharatiya Janata Party has given the task of mobilising them through social media to general secretary Amit Shah.
BJP President Rajnath Singh, in consultation with the party's Parliamentary Board which met on Thursday, decided to give the responsibility of reaching out to potential voters, especially the youth, through social media to Shah.
Shah, a close associate of BJP Election Campaign Committee chief Narendra Modi, has been a part of the poll campaign team of the Hindutva posterboy in Gujarat. Modi ran a strong campaign on social media like Twitter, Facebook and Google Plus.
Interestingly, General Secretary Rajiv Pratap Rudy has been given the task of reaching out to people through radio campaigns.
Murlidhar Rao will be responsible for mobilising the youth, including the party cadre, across the country.
General Secretary Dharmanedra Pradhan, General Secretary (Organisation) Ramlal and Rajnath Singh's political advisor Sudhanshu Trivedi have been given the charge of organizational mobilisation and holding meetings of workers and office bearers belonging to the lower rungs.
BJP Vice President Mukhtar Abbas Naqvi will be responsible for preparing the "charge sheet" on the failures of the UPA government as well as the campaign material.
J P Nadda has been given the charge of mobilising professionals like doctors, engineers and the like across the country.
General Secretaries Ananth Kumar and Varun Gandhi are also likely to be given important responsibilities.
Former BJP President Nitin Gadkari may be given the charge of poll-bound Delhi and Rajasthan.
Some important announcements are likely on July 8 when the Parliamentary Board meets again.