'This is PM Modi's victory. 100 per cent.'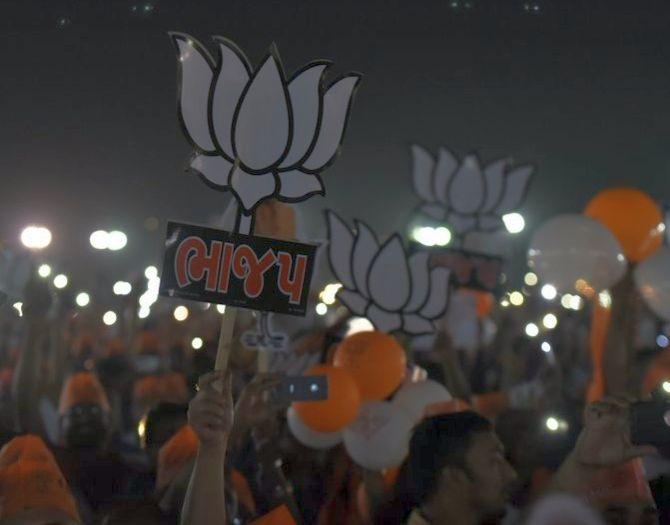 Sanjay Kakade, the Bharatiya Janata Party's Rajya Sabha MP from Maharashtra, had predicted a loss for his party in the Gujarat assembly election this weekend.
In a sort of volte face, Kakade now maintains his personal survey had only predicted that the BJP would not get a majority and the Congress could reach a near-majority mark.
Speaking to Rediff.com's Prasanna D Zore on the morning of counting day, soon after early trends clearly favoured the BJP to form the next government in Gandhinagar, Kakade said, "My personal survey never spoke about the BJP getting routed in Gujarat, but it predicted the BJP will not get a majority."
"But if that were to happen it will be only because of (Prime Minister Narendra D) Modisaheb."
His party, Kakade said, has achieved unprecedented success by winning six consecutive assembly elections in Gujarat despite there being strong anti-incumbency.
"I thought achieving this feat was impossible, but Prime Minister Modi's charisma and hard work made it happen," Kakade added.
His pollsters, the MP explained, had fanned across rural Gujarat and found distress and discontent among farmers against the BJP.
"I was trying to express the facts as they existed on the ground when this survey was conducted," Kakade said, adding, "But Modisaheb succeeded in overcoming this anger and resentment."
"This is definitely not the BJP's victory," the BJP MP declared. "This is PM Modi's victory. 100 per cent.".
With the victory in Gujarat, Kakade felt Modi has now become India's undisputed leader.
"Even the Gandhi family was never so popular," he said.
Asked if he was reprimanded by BJP President Amit A Shah for publicly predicting the BJP's defeat in Gujarat, Kakade asked, "Why should my party take any action against me for putting the ground realities before them?"