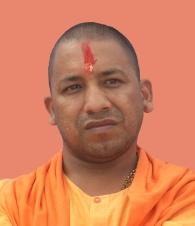 Bharatiya Janata Party Member of Parliament Yogi Adityanath and 24 others accompanying him to the Vishwa Hindu Parishad's 'Sankalap Diwas' rally in Ayodhya were on Friday arrested at the railway station in Gonda, Uttar Pradesh, as a preventive measure, police said.
The BJP MP from Gorakhpur and others were arrested ahead of today's rally, which has been banned by the Uttar Pradesh government, for violating the prohibitory orders, Additional District Magistrate Anjani Kumar Singh said.
The Centre has asked the UP government to maintain status quo in Ayodha and prevent any attempt to incite communal tension anywhere in the state.
Adityanath reached Gonda station from New Delhi, from where he was to leave for Ayodhya for the 'Sankalp Diwas' rally, when he was held.
UP police had on Thursday arrested nearly 340 people, including former BJP Member of Legislative Assembly Lalu Singh, and put 42
others under house arrest on the eve of the rally.
To prevent VHP activists from attending the rally, three-tier barriers have been put up on Saryu bridge, Faizabad district and Ayodhya, Inspector General (law and order) R K Vishwakarma had said on Thursday, and added that 2,000 jawans of the Rapid Action Force, police and Provincial Armed Constabulary have been deployed in the area.
As a precautionary measure, the local administration has set up a temporary jail at the Police Line, the IG had said.
The VHP has given a call to observe 'Sankalp Diwas' in Ram Sewak Puram in Ayodhya to take a resolve for launching an agitation for rebuilding the Ram temple in Ayodhya.
Image: Yogi Adityanath ' Photograph Courtesy: Wikimedia Commons