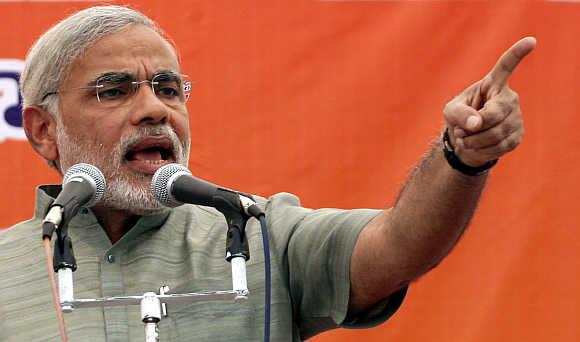 A day after Bhartiya Janata Party member of Parliament from Patna Sahib Shatrughan Sinha said that the party's performance in Bihar could have been better had he been projected as the chief ministerial candidate, more leaders of the BJP have started dissenting against the party's election strategy.
Blaming Prime Minister Narendra Modi's 'Amaryadit' (undignified comments) for the poll debacle, BJP MP from Begusarai Bhola Singh said he came in Rashtriya Janata Dal chief Lalu Prasad's trap and 'fell' to his standards while Janata Dal-United leader Nitish Kumar remained dignified, attracting voters from across communities.
"People went to Modi looking for a Prime Minister but they found a Lalu in him. He fell to Lalu's googly and left his 'sabka saath, sabka vikas' pitch. He started speaking in Lalu's language. He began using undignified language while Nitish Kumar did not forget decorum," the Begusarai MP said, in a first direct attack on Modi by a BJP leader after the party crashed to a humiliating defeat.
Singh, a second-term MP, has complained of not been given his due by the party even in his own Begusarai constituency.
BJP-led National Democratic Alliance lost all seven assembly seats in Begusarai to the Grand Alliance.
Apparently hinting at both state and central leadership, an angry Singh blamed 'Senapati' (supreme commander) for Bihar poll debacle without specifically naming anyone.
To a question if Modi and Shah communalised campaign by raking up issues like reservation for Muslims and Pakistan, he said, "Definitely. Or for what else you will raise the issue of cow or Pakistan. The campaign should have been about Bihar's backwardness and its development but we lost our way and fell into a ditch."
Singh also vented out his anger at Union minister of state and Nawada MP Giriraj Singh for talking about beef and firecrackers in Pakistan which, he said, people took as an affront on them. Criticising Modi for making Giriraj a minister, he said somebody, who said those do not vote for BJP should go to Pakistan, should not have been made minister.
Another senior BJP leader Amrendra Pratap Singh, who lost in Ara, admitted, "Our social equation was smaller and less effective than that of Grand Secular Alliance of Janata Dal-United, Rashtriya Janata Dal and Congress."
Amrendra, a four-time MLA from Ara and was the deputy speaker in the outgoing assembly, lost in his fifth outing to his JD-U rival.
Earlier, party MP Shatrughan Sinha has been critical of the BJP leadership, particularly those in the Bihar unit, saying he was 'deliberately' left out of the campaign for the assembly polls.