Sources said the BJP and the JD-U may contest 16 seats each, with six and two to be left for the LJP and the RLSP respectively.
Bharatiya Janata Party president Amit Shah announced on Friday that his party and Bihar Chief Minister Nitish Kumar-led Janata Dal-United will contest equal number of Lok Sabha seats in the state, in what is being seen as a big boost to Kumar who had been insisting on a parity with the saffron party.
Joined by Kumar, Shah told reporters that an announcement on the number of seats both parties, besides two other allies -- Ram Vilas Paswan's Lok Janshakti Party and Upendra Kushwaha's Rashtriya Lok Samta Party -- will contest in 2019, will be announced in two-three days.
The announcement followed a meeting Kumar had with Prime Minister Narendra Modi at the latter's residence earlier in the day.
It marks a climbdown by the Bharatiya Janata Party, which had contested 30 of the state's 40 seats in the 2014 general elections and won 22, while its two other then allies, the LJP and the RLSP, had won six and two seats respectively out of seven and three they had fought.
Sources in the National Democratic Alliance, which includes the BJP and its partners, said the BJP and the JD-U may contest 16 seats each, with six and two to be left for parties led by Paswan and Kushwaha respectively.
Shah made it clear that the number of seats of all NDA parties in Bihar will come down to accommodate the JD-U, which had joined the alliance last year after severing ties with the Congress and the Lalu Prasad-led Rashtriya Janata Dal.
The JD-U had fought the 2014 Lok Sabha polls on its own.
To a question about whether Kushwaha, whose equation with Kumar is far from cordial, will remain a part of the NDA, Shah answered in affirmative and asserted that the alliance will do better than the last polls when it had won 31 seats.
"All four parties will remain part of the NDA," he said.
Kumar said talks with two other allies are in the last stage and an announcement about the exact number of seats will be made soon.
The JD-U had won only two seats in 2014, and the BJP's decision to cede many of its winning seats to give it an equal weightage underscores Kumar's indispensability to it against the Rashtriya Janata Dal-led opposition.
Since the JD-U joined hands with the BJP, the regional party had been asserting its senior status in the state citing Kumar's leadership and its better show than the saffron party in the 2015 assembly polls.
Many BJP leaders were of the view that Kumar was no longer the same force while the BJP had emerged much stronger, a claim which also strained their ties before intervention by the top BJP brass repaired the damage.
In the 2009 Lok Sabha polls, when Kumar was a BJP ally the JD-U had contested 25 seats and the former 15.
Shah said Kumar, Paswan and BJP leader and Bihar's Deputy Chief Minister Sushil Kumar Modi will lead the alliance's campaign in the state.
He accused the opposition of running a disinformation campaign against the NDA, and claimed rival parties had no base in Bihar.
Kumar said he also discussed drought conditions in his state and its development issues with Modi.
Kushwaha-Tejashwi meet triggers speculations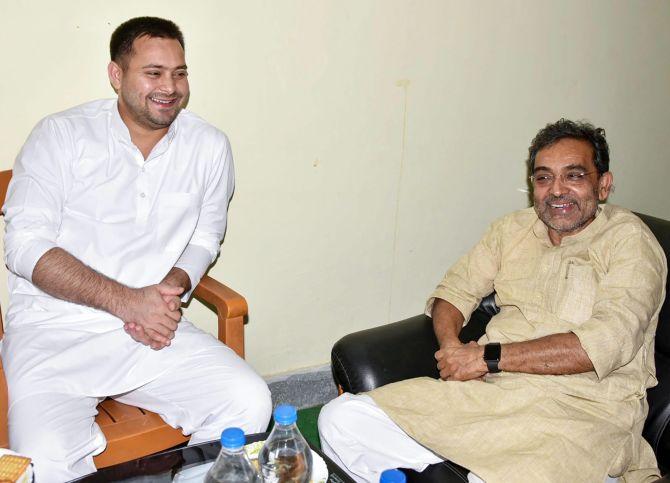 Union minister and RLSP president Upendra Kushwaha met RJD leader Tejashwi Yadav Friday, triggering speculation of discontent within NDA grouping in Bihar, hours after BJP chief Amit Shah announced a seat-sharing formula in the state for Lok Sabha elections.
A picture from the meeting, that took place in Arwal district, of the two leaders was shared by the RJD on its WhatsApp group, prompting many to believe the RLSP chief was not happy within the BJP-led NDA, though his party downplayed it as a "courtesy call".
"Public figures do meet each other often even if they do not happen to be allies," an RSLP functionary said after the meeting.
Kushwaha's RLSP is a part of the BJP-led NDA in Bihar whose other constituents are Nitish Kumar's JD-U and Ramvilas Paswan's LJP.
Kushwaha declined to comment on what transpired during the meeting.
Tejashwi Yadav said that people were "free to draw their own conclusions".
"People are free to draw their own conclusions. I can only say that the meeting was not pre-planned. It was a coincidence that he and I were at the Circuit House at the same time and hence it was natural for us to exchange pleasantries," Yadav, the former deputy chief minister, said.
"It is probably the first time that I have met Kushwaha in person. As far as prospects of his joining our grand alliance is concerned, we have invited him to do so long ago and the invitation stands. It is for him to accept it or ignore it," the leader of opposition in Bihar assembly said.
Kushwaha's meeting with the top leader of the NDA's rival party assumes significance as it came on a day Shah talked about a seat-sharing formula for the alliance and also said "all four parties will remain part of the NDA."
On Shah's announcement of the BJP and the JD-U contesting equal number of seats, Kushwaha said, "He has not stated any number of seats for any party."
"it would not be proper for us to say anything on the matter until and unless...the number of seats assigned to each party is declared".
The RLSP dismissed speculations about discontent maintaining that the meeting - which took place shortly after BJP chief Amit Shah's press conference in Delhi - was "a courtesy call" by the RJD heir-apparent.
"Kushwaha, in his capacity as a Union minister, had an engagement in Arwal. It was a coincidence that Tejashwi too had a political programme in the district and the two happened to be at the Circuit House at the same time," RLSP national general secretary and spokesman Madhaw Anand said.
"I have spoken to Kushwaha after the meeting. He has categorically stated that no political meanings should be attached to the meeting. It was just a courtesy call. Public figures do meet each other often even if they do not happen to be allies," Anand said.
He, however, added "we hope that we will be getting more than three seats, the number we had contested and won in 2014 since our support has widened in the last few years".
Meanwhile, in a statement, RJD's national vice president Shivanand Tiwary said that by agreeing to an equal number of seats for both BJP and JD(U), Shah had shown "excessive generosity to Nitish Kumar while ignoring old allies".
He also cryptically remarked, "Nitish is like a Brahmin who will first satiate himself and leave the crumbs for Shudras and Dalits."
The comment by Tiwari, a former aide of Kumar, was an oblique reference to RLSP and Ram Vilas Paswan's LJP. The two smaller NDA allies are expected to be assigned a number of seats that may be less than what they had got in 2014.