The Bharatiya Janata Party on Monday released its second list for the upcoming assembly polls in Madhya Pradesh, fielding three Union ministers.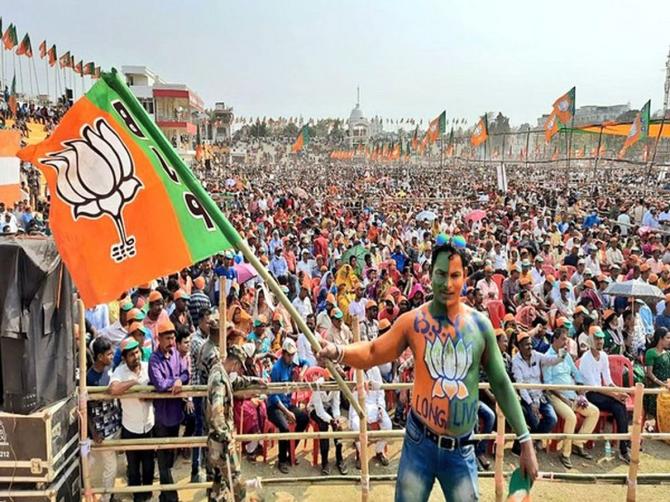 The ruling party has so far declared candidates for 78 seats for polls to the 230-member house, including its first list of 39 names that was released in August.
In the list issued on Monday night, the BJP has fielded Union ministers Faggan Singh Kulaste from Niwas (ST), Prahlad Singh Patel from Narsinghpur, whose brother Jalam Singh Patel is the incumbent MLA, and Narendra Singh Tomar from Dimni.
The BJP has also fielded four Lok Sabha MPs, namely Rakesh Singh from Jabalpur (West), Riti Pathak from Sidhi, Ganesh Singh from Satna and Udaypratap Singh from Gadarwara.
Pathak has been named in place of MLA Kedarnath Shukla, whose alleged supporter was named in the Sidhi case in which a tribal was urinated upon, the incident causing outrage across the nation.
BJP general secretary Kailash Vijayvargiya will contest from Indore-1 assembly seat.
Other candidates in the list include Durgalal Vijay (Sheopur), Raghuraj Kansana (Morena), Amrish Sharma (Lahar), Mohan Singh Rathore (Bhitarwar), Imarti Devi (Dabra), Pradeep Agrawal (Sewda) and Ramesh Khatik (Karera).
It has named Hirendra Singh (Raghogarh), Brijbihari Pateria (Deori), Arvind Pateria (Rajnagar), Shrikant Chaturvedi (Maihar), Vishwamitra Pathak (Sihawal), Dilip Jaiswal Kotma and Pankaj Tekam (Dindori).
The party has fielded Gaurav Pardhi from Katangi, Natthan Shah from Junnardev, Vivek Banti Sahu from Chhindwara, Jyoti Deharia from Parasia, Gangabai Uikey from Ghoradongri, Narendra Shivaji Patel from Udaipura, Hajarilal Dangi from Khilchipur, and Madhu Gehlot from Agar.
Arun Bhimawat will fight from Shajapur, Nanda Brahmane from Bhikangaon, Antar Singh Patel from Rajpur, Shyam Barde from Pansemal, Kalsingh Bhanwar from Thandla, Sardar Singh Medha from Gandhwani, Manoj Patel from Depalpur, Tejbahadur Singh from Nagda-Khachrod and Sangeeta Charel from Sailana, as per the BJP.
Malhar MLA Narayan Tripathi has been replaced by Shrikant Chaturvedi.
The list includes candidates for four Scheduled Caste (SC) and 10 Scheduled Tribe (ST) reserved seats.
In the 2018 polls, the Congress won 114 seats against the BJP's 109 and formed a government under Kamal Nath. It fell in March 2020 after a rebellion by MLAs loyal to Jyotiraditya Scindia, paving the way for Shivraj Singh Chouhan to return as CM.
Following bypolls due to legislators switching sides after the rebellion, the BJP now has 126 seats in the House, while the Congress has 96.
Assembly polls are likely to be held at the end of the year.