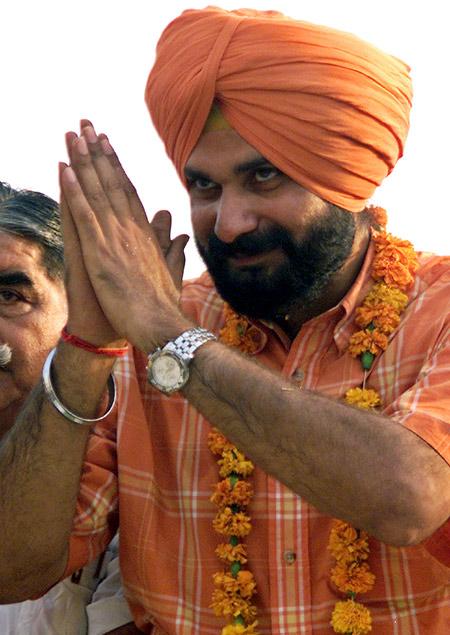 The Bharatiya Janata Party on Friday defended cricketer-turned-politician Navjot Singh Sidhu's prolong absence from party affairs for the past few months, saying the Amritsar member of Parliament is still the "favourite candidate" for them.
"He has some professional commitments... He will soon return," said Punjab BJP chief Kamal Sharma when asked about Sidhu's absence from Amritsar for the past nine months. "He is our best candidate for the traditional Amritsar seat. He had been the MP on BJP ticket from Amritsar thrice," Sharma said.
"Sidhu is not unhappy and he is not quitting the party... His services will be utilised," Sharma elaborated. Earlier, Sidhu's wife, Navjot Kaur, who is the party's sitting member of Legislative Assembly and chief parliamentary secretary, had claimed that "her husband is disillusioned" from the party as he has not been considered in party affairs".
Sidhu was conspicuously absent from a recent rally at Modhopur addressed by Narendra Modi after th latter's anointment as chairman of the BJP's election campaign committee for the upcoming Lok Sabha polls.
He was also absent from the state executive meeting at Amritsar convened by the outfit's national president Rajnath Singh. When pressed that Sidhu preferred to remain engaged in TV shows and cricket matches commentary, Sharma said that "every man has his profession...he has chosen his career...he has his own priorities."
"Sidhu did not attend Modi's rally as on the same day (June 23) he was engaged in commentary for the final of the Champions trophy at London...he had signed a contract," he said.
Sharma categorically refuted assertions that Sidhu was being ignored by the party. "He is being intimated about party issues from time to time," he said. On being asked that whether party is considering disciplinary action against Sidhu's wife for being vocal against certain issues, including allegations of her phones being tapped, Sharma said, "There is a difference between discipline and regimentation...if there are any issues with Sidhu's wife these would be resolved at party level."