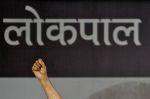 In an apparent show of unanimity, the report of the Select Committee on Lokpal Bill, which has recommended delinking creation of Lokayuktas in states from the central bill, is scheduled to be tabled in the Rajya Sabha on Friday by Congress and Bharatiya Janata Party.
According to the revised list of business of Rajya Sabha, Leader of the Opposition Arun Jaitley will table the report along with Shantaram Naik of Congress who is also the Chairman of the Department-related Standing Committee on Law and Personnel.
Usually, Select Committee report is tabled by its Chairman. Satyavrat Chaturvedi is the Chairman of the Rajya Sabha Select Committee on Lokpal.
After its passage in the Lok Sabha last year, the bill faced opposition hurdles in the Rajya Sabha on various provisions, following which it was referred to the Select Committee. The panel, which was to submit its report during the monsoon session, adopted it on November 19.
The Department of Personnel and Training, which piloted the bill, will have to approach the Union Cabinet on the recommendations made by the committee.
Once the bill is passed in the Rajya Sabha, it will travel back to the Lok Sabha for approval of the amended version.
Despite suggestions by the Law Ministry during depositions before the Committee suggesting 'insulation' to officials of the PMO, the Committee, headed by Satyavrat Chaturvedi, has not recommended any changes.
The prime minister, who is sought to be covered by the proposed law, is, however, exempted from the ambit of Lokpal on issues of external and internal security, atomic energy, international relations and public order.
The Select Committee is learnt to have not recommended any change in the provision relating to "reservation".
The original provision said 'not less than 50 per cent of the members of Lokpal would be from SC, ST, OBC, minorities and women.
The committee's report said "these provisions merely aim at providing representation to the diverse sections of the society in the institution of Lokpal..."and only indicates\ "the quantum of representation and not reservation".