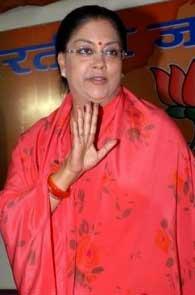 Two days after its leader Gulab Chand Kataria was charge-sheeted by the Central Bureau of Investigation, a furious Bharatiya Janata Party on Thursday launched a scathing attack on Rajasthan Chief Minister Ashok Gehlot, accusing him of hatching a conspiracy against its leader due to political vendetta.
State party chief Vasundhara Raje questioned the timing of the CBI action and alleged that Kataria was falsely implicated in the case as the ruling Congress is "panicky" after witnessing the response to BJP's 'Suraj Sankalp Yatra'.
"The CBI works under government pressure. It has become a tool for the Congress for committing revengeful acts against its political rivals," Raje alleged.
Kataria, who is also the Leader of Opposition in Rajasthan assembly, has been booked for murder charges in the Sohrabuddin Sheikh encounter case.
"Kataria is clean but he is being falsely implicated. The conspiracy was hatched at the behest of the chief minister for political reasons," Raje said.
Raje said the CBI "failed" to complete the probe in the matter in the stipulated time-frame as fixed by the Supreme Court and has now filed a "false" charge-sheet.
"What is the reason behind the delay?" she questioned.
The former chief minister said the move against Kataria was only to divert people's attention from issues related to development and other matters, which are being successfully raised during the party's campaign.
Raje said the CBI was also "misused" against Congress Members of Legislative Assembly Mahipal Singh and Malkhan Singh as they were "rivals" of the chief minister.
She said the party's yatra will continue and BJP has called a state-wide bandh on May 18 to protest against CBI's action.
In Jodhpur, state vice president Omkar Singh Lakhawat levelled similar allegations, accusing Gehlot of working with political vendetta.
"Everybody can vow beyond any doubt that Kataria is a person and politician of very high integrity, honesty and dignity. He has been falsely framed by the CBI on unsubstantiated allegations," Lakhawat said.
"Congress has 22 MLAs from this region which is their highest number in any region (of the state). The huge turnout of people in BJP's yatra has made the party skeptical about its chances in the coming assembly elections," he said.
Earlier in the day, Gehlot rubbished the allegations levelled by the BJP.
"If the Congress had any such role, then why the would the party implicate Kataria (the home minister) instead of targeting the person who was No. 1 (chief minister) at that time, as a former BJP leader Kirori Meena had once said that such encounters cannot happen without the nod of the No. 1," he said.
He refrained from directly claiming the involvement of Raje in the encounter as the then CM of Rajasthan, terming it a "sensitive matter".
Image: Vasundhara Raje