The 44 legislators, including Arunachal Pradesh Chief Minister Pema Khandu, who deserted the Congress party on Friday and joined the People's Party of Arunachal, are set to form a new government with the support of the Bharatiya Janata Party-led North East Democratic Alliance.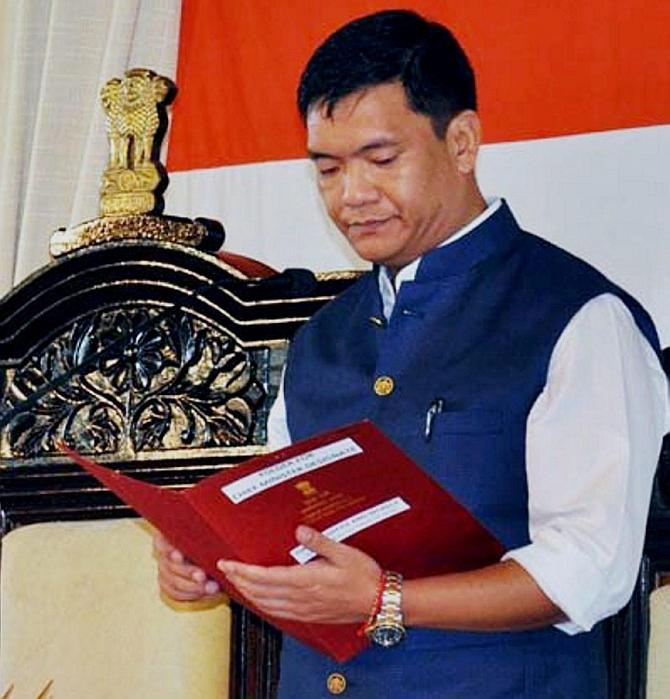 The PPA, a regional party, is part of the BJP-led alliance.
State BJP president Tapir Gao announced in Itanagar that his party will provide outside support to the PPA government.
Meanwhile, Union Minister of State for Home Kiren Rijiju, who is from Arunachal Pradesh, denied the allegation that the BJP had a role to play in engineering the collapse of the Congress government.
"The Congress shouldn't blame BJP for its own failure. If the chief minister and ministers have to wait for days to meet their own leadership in Delhi, how can they stay in such a party?" he said.
"The (Arunachal Pradesh) CM and the MLAs have consciously decided to merge with the regional party; the BJP has nothing to do with this," he added.
The 44 MLAs, who left the party on Friday, were closeted in a legislature party meeting in Itanagar all morning to discuss their plan to join the PPA, paving the way for another dramatic change of government in the frontier hill state.
The only Congress MLA who has remained with the Congress is former chief minister Nabam Tuki, who was replaced as chief minister when the Congress, in an effort to control the rebellion in its ranks, replaced him with Khandu in July.
Tuki did not attend Friday's legislature party meeting as he was reportedly touring his constituency.
Arunachal Pradesh has seen eight different governments in the last decade, and three this year alone.
In an assembly of 60 members, the Congress had 47 lawmakers while 11 were from the BJP. Two independent lawmakers who supported the Congress have also joined the People's Party. The status of two Congress MLAs is yet to be decided as they put in their papers before the recent series of political developments that led to the Tuki government falling in January 2016, imposition of President's rule and installation of the late Kalikho Pul government for a short span.
Photograph: PTI Photo