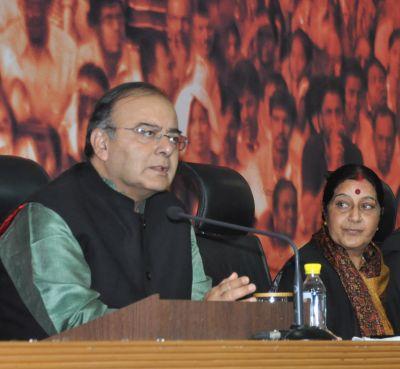 Alleging that the Congress-led United Progressive Alliance government's mindset has led to "decay" of key institutions including Parliament, the Bharatiya Janata Party on Saturday said it poses a serious issue before the next Lok Sabha as it is threatening the survival of democracy in the country.
The party claimed it had performed its role of an effective Opposition and rose above partisan considerations to support several legislations such as the Food Bill, the Land Acquisition Bill ,the Lokpal Bill and the Andhra Pradesh Bifurcation.
"During the current Lok Sabha there has been a decay of institutions which can prove fatal for democracy. Not one, but a number of institutions have become victim to such mindset of this government," Leader of Opposition in Lok Sabha Sushma Swaraj said.
She said, "All limits were crossed in Parliament this time due to the pepper spray incident. We are satisfied with what we have achieved and pained with what we could not. But, it is a matter of serious concern for the next Lok Sabha that it even poses a threat to the survival of democracy...We will try and restore the dignity of such institutions."
Her counterpart in Rajya Sabha Arun Jaitley said starting from a peak in 2009, UPA-2 ended with big corruption, loss of credibility, leadership vacuum and policy paralysis.
Jaitley summed up the last five years as a "wasted opportunity" by the government and said the nation has suffered due to its effect.
Noting that governments don't run with arrogance, he said the UPA government has ended on a negative note, with "dejection, lack of enthusiasm and a cynical feeling".
He said the last five years of Parliament witnessed the government facing serious allegations of corruption like the 2G Spectrum Allocation, the Coal Block Allocation Scam, the Commonwealth Game Scam, the VVIP Augusta Helicopter deal which eroded the credibility of the government.
"There was such big corruption in UPA-2 that it lost its credibility and there was a leadership vacuum as the Prime Minister, who has the last word in a democracy, did not have the last word. There was also policy paralysis, due to which an economic crisis was created in the nation, where the growth process slowed and economy shunk, while prices remained uncontrolled and the agrarian crisis continued," Jaitley said.
He said "institutional decline" was a major feature of this government and there were concerns on the foreign policy.
BJP expressed satisfaction on its contribution in raising a number of issues through debates on debates on economy, federalism, national security and corruption in Parliament during the current Lok Sabha.
Image: BJP leaders Arun Jaitley and Sushma Swaraj interacting with mediapersons at the party headquarters
Photograph Courtesy: BJP website