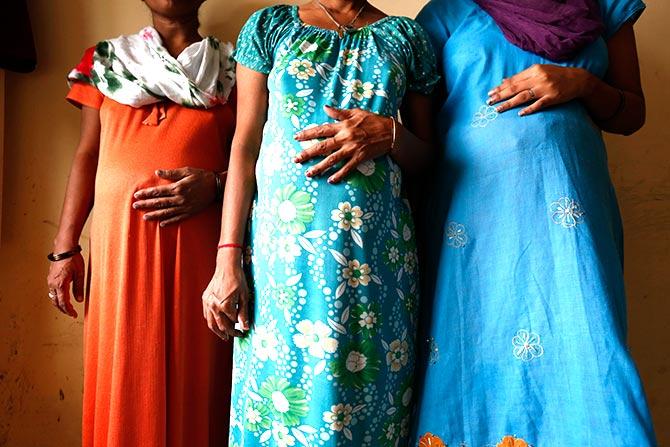 A bill proposing a complete ban on commercial surrogacy and allowing only legally wedded Indian couples to opt for children through it was on Wednesday approved by the government to check unethical practices.
The Union Cabinet gave its nod to the introduction of the Surrogacy (Regulation) Bill, 2016 in Parliament, seeking a bar on unmarried couples, single parents, live-in partners and homosexuals from opting for surrogacy.
The move that is aimed at curbing unethical practices in the country which was emerging as a hub of commercial surrogacy.
The bill has a provision for a jail term upto ten year and a fine of Rs 10 lakhs for violations, such as abandoning the child and opting for commercial surrogacy.
"The new bill proposes a complete ban on commercial surrogacy in the country and will allow only legally wedded Indian couples married for at least five years to have children through surrogacy.
"Foreigners as well as NRIs and PIOs who hold Overseas Citizens of India cards have been barred from opting for surrogacy," External Affairs Minister Sushma Swaraj told reporters after the meeting.
"Unmarried couples, single parents, live-in partners and homosexuals cannot opt for surrogacy as per the bill. Legally wedded couples who have been married for at least five years, can opt for surogacy," she said.
Only "close relatives" of couples seeking children will be allowed to be surrogate mothers. A woman who offers her womb for the purpose, will be able to do so only once as per the bill.
The woman wanting a child through the method will be the mother as per the proposed law. There is a provision under the measure for a contract to clear any ambiguity.
Only altruistic surrogacy will be allowed in a regulated form with some condition, the bill said.
A woman seeking a surrogate child should between 23 and 50 years in age and her husband should be between 26 and 55 years.
A surrogate child will have equal right as any other biological or adopted child over property, Swaraj said.
Moreover, the surrogate mother, who should be a close relative of the couple, should be married and have borne a healthy child.
Swaraj said with India having over 2,000 surrogacy clinics, there was need to regulate the practice and only altruisic surrogacy will be allowed as per the bill.
The bill comes in the wake of India emerging as a surrogacy hub for couples and incidents being reported on unethical practices.
It also seeks to set up national surrogacy board at the central level as well as in states and Union territories.
The bill, which will come up for consideration in Parliament during the winter session, aims to safeguard the rights of surrogate mothers and make parentage of such children legal.
Surrogacy clinics under the bill will have to maintain their record for 25 years to ensure that documents are made available in case of a legal dispute.
Swaraj said successive governments had assured Parliament on eleven occasions to bring such a bill.
Seeking to allow a broader view to prevail, the government has decided that it will be referred to Parliament's Standing Committee on Health.
The minister said the new law will be notified 10 months after it is cleared by the two Houses to allow mothers who are already pregnant then to have a surrogate baby.
Swaraj lamented that the method has become a "fashion" for couples, especially celebrities.
Referring to "big celebrities", though without naming them, Swaraj said they have opted for surrogacy and it has become a trend. She said under the bill, the procedure has been allowed for necessity and not "shauk" (fashion).
"We have several examples of big celebrities who have their own children, two children -- a boy and a girl -- still they have gone for a surrogate child," she said.
Shah Rukh Khan, Amir Khan and Tusshar Kapoor are some of the celebrities to have surrogate children. Kapoor is a single parent.
"Permission (under the bill) is for necessity, not shauk...there is no permission for cases in which the wife does not want to go through labour...you make a poor woman go through labour pain instead," she said.
There have been incidents where girl children born out of surrogacy being abandoned or children with disorders being deserted, she said.
Swaraj was of the view that the proposed bill will check exploitation of poor women especially in the rural and tribal areas and prevent "womb trade".
Under the bill, couples going for surrogacy will also have to produce a certificate to prove that one of them is medically unfit to bear a child. People already having one child cannot go for surrogacy.
Responding to a question, Swaraj said live-in partners, single parents, homosexuals and widows can go for adoption but not surrogacy. She said live in relations and homosexual relations have no legal sanctity. She said such people, including single parents, can go for adoption.
To a query as to what will couples do if they do not have close relatives, the minister said that the option then will be to go for adoption.
A Group of Ministers headed by Swaraj had recently cleared the bill and had referred it to the Union Cabinet for a final call. The GoM was constituted at the behest of the Prime Minister's Office.
Apart from Health Minister J P Nadda, Commerce Minister Nirmala Sitharaman and Food Processing Industries Minister Harsimrat Kaur Badal were among those part of the GoM.
The government had recently admitted that in the absence of a statutory mechanism to control commissioning of surrogacy at present, there have been cases of pregnancies by way of surrogacy, including in rural and tribal areas, leading to possible exploitation of women by unscrupulous elements.
To prevent exploitation of women, especially those in rural and tribal areas, the government has prohibited foreigners from commissioning surrogacy in the country and has drafted this comprehensive legislation, the sources said.