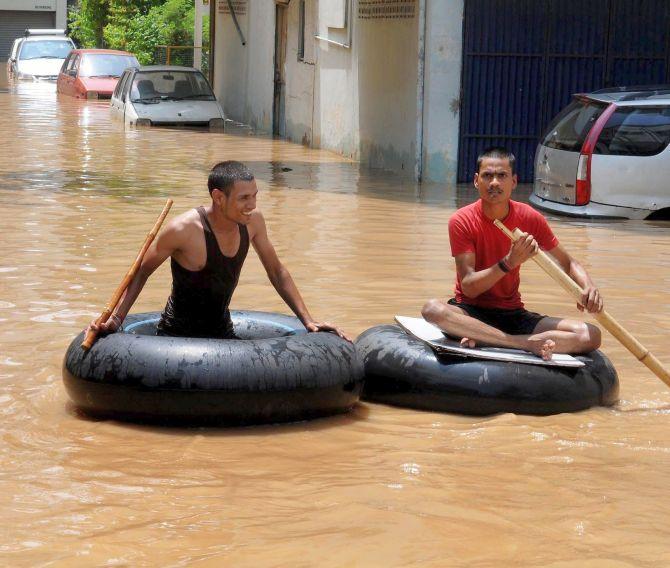 At least 14 people have been reported killed in Bihar and over 5 lakh have been affected in one of the worst floods in Patna since 1975, triggered by a sudden discharge of 11.67 lakh cusecs (cubic foot per second) of water into Sone river from Indrapuri barrage in Rohtas district.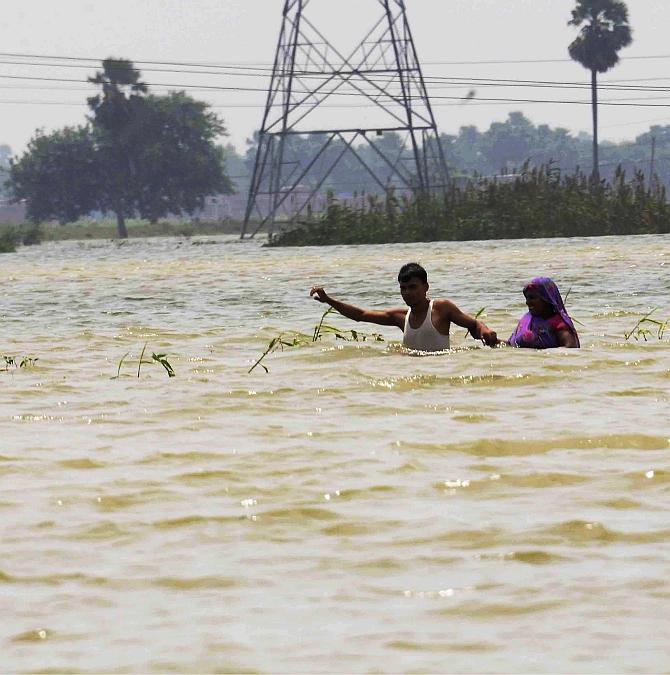 IMAGE: Villagers walk through flood waters at a village in Patna district of Bihar. Photograph: PTI Photo
The enormous discharge of water in Bihar marooned nearly 50,000 people in Patna alone and 10,000 had to rescued as water from Ganga rose above the danger mark and entered homes, residential colonies and buildings situated on the riverbank.
The flood situation in Bihar remains grim, Bihar Disaster Management department officials said on Monday, adding that thousands of people have been forced to flee their homes and take shelter on higher grounds, including relief camps set up by the state government.
Floods have ravaged 12 of the 37 districts in the state -- the worst-affected being Patna, Vaishali, Bhojpur, Khagaria and Samastipur districts.
Home Minister Rajnath Singh on Monday spoke to Chief Minister Nitish Kumar, who is believed to have briefed the former on the flood situation and the steps taken for rescue and relief of the marooned people.
Rajnath has assured all central help in dealing with the disaster.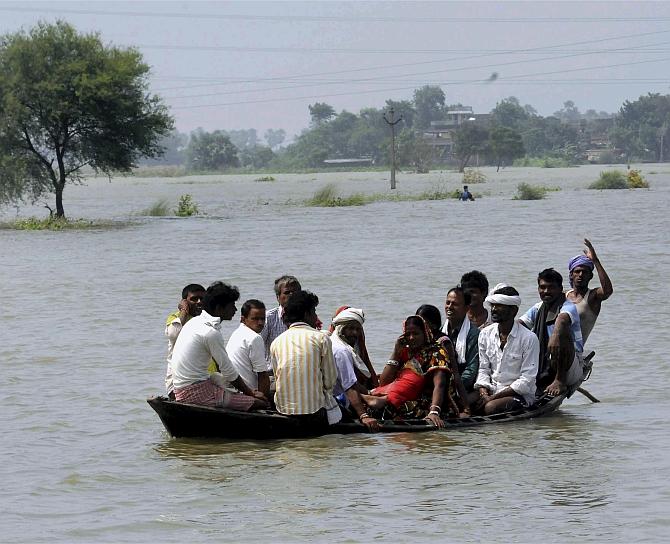 IMAGE: Villagers shifting to a safer place from a flooded village in Patna district of Bihar. Photograph: PTI Photo
Meanwhile, National and State Disaster Response Force have already been deployed in the affected districts.
Kumar said that apart from taking help of big boats meant to ferry sand to evacuate people and animals, the government has made all preparations to airlift the people if needed.
Besides, Army has been put on alert to help the people out from the flood affected areas, Kumar added.
"We want to assure the people that we are alert... People should not get panicky and should tackle the situation bravely," Kumar said adding that government is taking every necessary step to provide relief to the people as "victims of disaster have the first right on state's coffers."
A disaster management department statement said altogether 1,326 boats are being plied by the government to evacuate the affected people to safer places.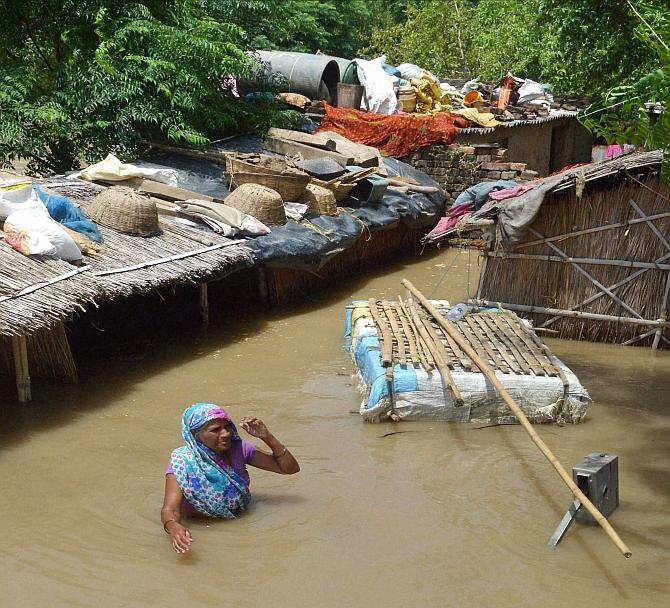 IMAGE:

A woman waiting for help and relief in a flooded locality in Nakta Diyara, Patna

. Photograph: PTI Photo
The statement said several other rivers, apart from Ganga, were too flowing above danger mark and they were Sone at Koilwar (Bhojpur) and Maner (Patna), Punpun Sripalpur (in Patna), Ghaghra at Gangpur-Siswan in Siwan and Saran districts, Gandak in Hajipur, Kosi at Baltara and Kursela in Katihar district and Burhi Gandak in Khagaria.
The chief minister has already cancelled the leaves of all the officers to facilitate their deployment in flood-affected areas.
All the DMs and SPs of flood affected districts would keep moving in order to assess the ground realities, he said, adding that DMs would carry out aerial survey of their respective districts.
'Farakka Dam' responsible for Patna flooding?
The chief minister held Farakka dam responsible for slow discharge of water from Ganga which has become shallow due to heavy siltation. This causes flood water to spread to other areas.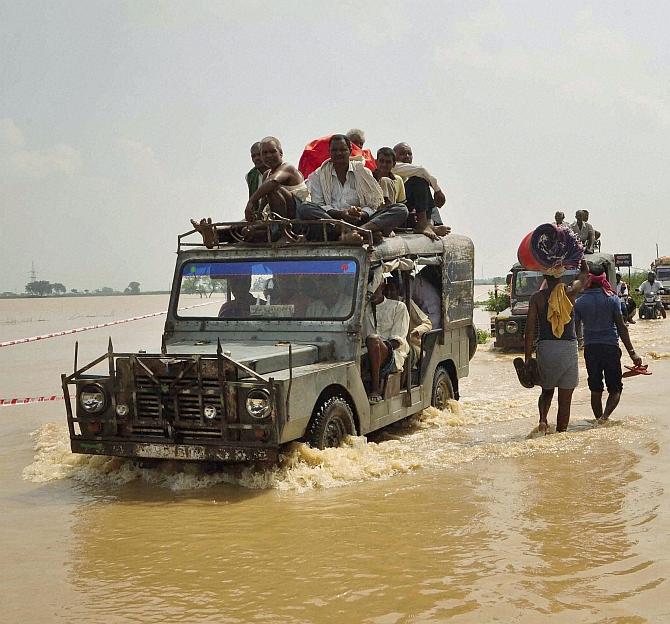 IMAGE: Transport vehicles moving at submerged national highway 31 near Fatuha in Patna district of Bihar. Photograph: PTI Photo
He asked the Centre to remove the dam or come out with a 'Silt Management Policy'.
If the central government has any other option (other than removing the dam), then it should start working on it, he said.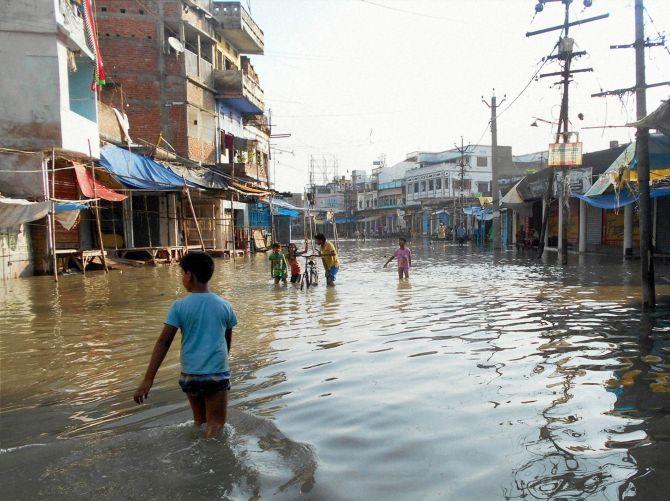 IMAGE: A child wades through knee-high water in Chhapra. Photograph: PTI Photo
In his Independence day address too, Kumar had raised the issue saying that the depth of river Ganga had reduced following the silt deposition in the river due to construction of dam at Farakka.
Stressing that Ganga has become shallow due to siltation, Kumar said "I have consistently been raising this issue for the past 10 years. I had raised the issue when Manmohan Singh was the Prime Minister and now I am raising it before the Narendra Modi government."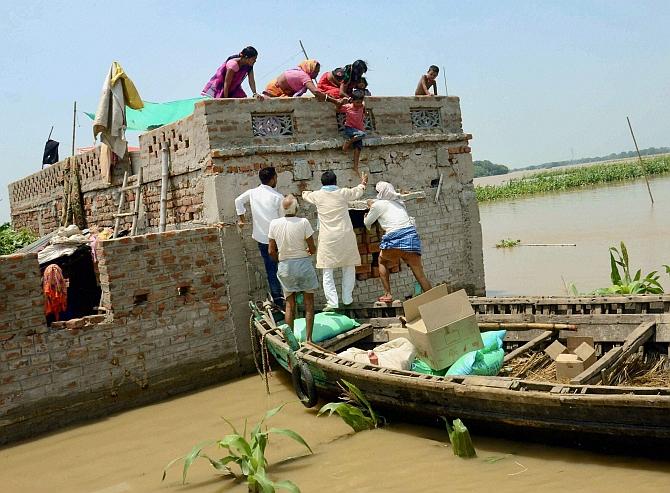 IMAGE: Volunteers help a child to get down from the roof of a submerged house to shift him to safety near Danpur in Patna district of Bihar. Photograph: PTI Photo
Due to siltation in the river, the depth of Ganga river has reduced and water spreads to the adjoining areas in the event of rise in the water level, he said.
"I appeal to the Government of India to prepare a policy on silt management. The central government should consider it after taking stock of the situation...It should come out with the mechanism or way out to prevent silt getting deposited in the river Ganga, otherwise it could prove to be a terrible situation in years to come," Kumar said.
Additional Reportage: PTI