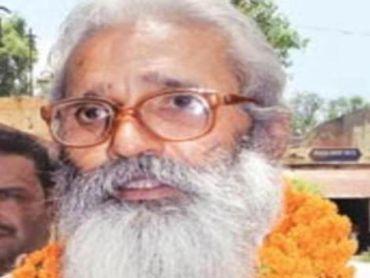 Brahmeshwar Singh, the chief of Bihar's outlawed private militia of landlords Ranvir Sena, was shot dead on Friday by six unidentified gunmen who pumped several bullets into him while he was taking an early morning walk.
Violence broke out in the district headquarter town of Ara in Bhojpur district after the killing of Singh alias 'Mukhiya ji', in his early 70s, and a high alert was sounded in Bihar.
Curfew was clamped in Ara but it was lifted in the afternoon after a high-level review of the situation by senior state officials. The situation in the district was described as tense but under control.
Director-General of Police Abhayanand, who is camping at the spot, was heckled by local people who charged him with failure to provide security to Singh.
Singh, the founder of the Sena, was taking a stroll when six unidentified gunmen armed with sophisticated weapons pumped several bullets into him, killing him on the spot at Katira Mohalla under Nawada police station, 71 kms from Patna, police said.
Bihar Chief Minister Nitish Kumar appealed for calm and said investigations were underway to trace the killers.
Singh, who faced life imprisonment in several cases of carnage he had perpetrated on the lower caste landless poor, including in Laxmanpur Bathe where 61 Dalits were massacred in December, 1996, was acquitted and released from jail in April this year.
As the news of the killing spread, hundreds of Sena supporters gathered at the site of the killing and shouted anti-government slogans.
The Sena men also tried to chase policemen, including the superintendent of police, who had arrived at the spot and later clashed with policemen and burnt five private and government vehicles, sources said.
Hundreds of people took out processions in the district. The private bus operators suspended bus services from Patna causing immense hardships to passengers in the area.
Some supporters also smashed windows of the Patna Rajdhani Express, reports stated.
Prohibitory orders under section 144 CrPC would remain in force, sub-divisional police officer Dharmesh Kumar said, adding the situation is tense but under control.
The main opposition parties Rashtriya Janata Dal, Congress and Lok Janshakti Party demanded a Central Bureau of Investigation probe into the killing of Singh.
Image: Brahmeshwar Singh
With inputs from PTI