A "record" 57.59 per cent of over 1.46 crore voters cast their ballots in 55 assembly seats in Bihar on Sunday in the fourth and penultimate round of polling, which passed off "by and large" peacefully except for stray incidents of violence and police firing.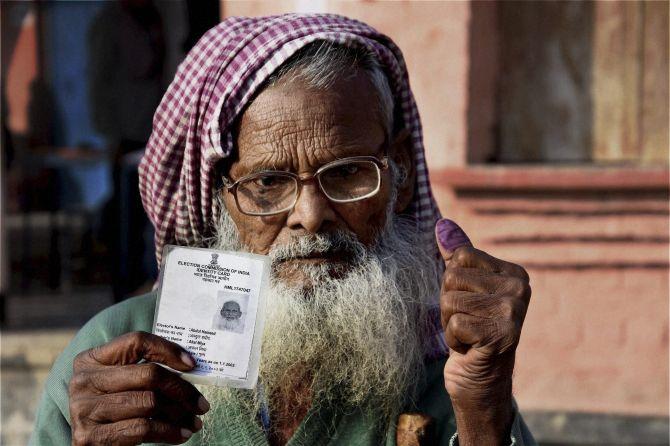 An elderly voter after casting her vote at a polling station during fourth phase of Bihar elections in Muzaffarpur on Sunday. Photograph: PTI
"Today's polling passed off, by and large, peacefully in the fourth phase with a total turnout of 57.59 per cent," Chief Electoral Officer Ajay Nayak told reporters at the conclusion of the polling.
Deputy Election Commissioner incharge of Bihar Umesh Sinha told a press conference in Delhi that at 57.59 per cent, the voter turnout on Sunday can be described as a "record".
The voter turnout in 55 constituencies spread over seven districts of Muzaffarpur, East Champaran, West Champaran, Sitamarhi, Sheohar, Gopalganj and Siwan, was three per cent more than what was recorded in 2010 assembly elections, Nayak, who was accompanied by Additional CEOs R Lakshmanan and Arvind Choudhary, said.
As with the earlier three phases, women outnumbered men in voting. While 60.40 per cent of women voters exercised their franchise, the figure for men was 54.20 per cent, Nayak said.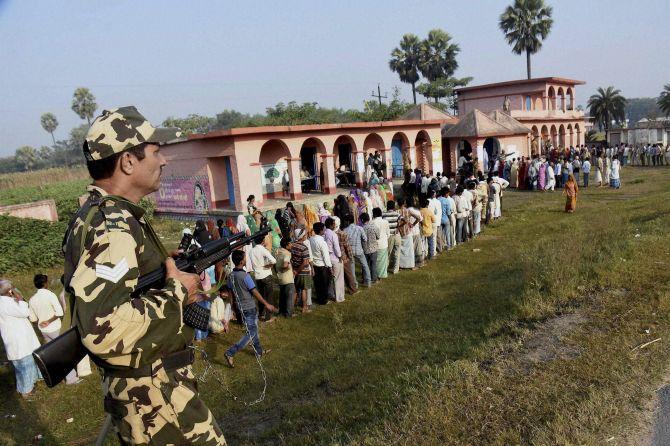 Voters wait in queues to cast their votes during fourth phase of Bihar elections in Muzaffarpur on Sunday. Photograph: PTI
"In phase one, the turnout was 54.85 per cent. In phase two it was 54.99 per cent and in the third phase the turnout was recorded at 54.24 per cent," Sinha said, adding average of all the four phases was 55.41 per cent.
Nayak said police opened fire and used "mild" lathicharge at Rataura village of Raghunathpur constituency in Siwan district where tension prevailed after Bharatiya Janata Party candidate Manoj Kumar Singh complained about alleged irregularities at some polling stations.
Sinha said members of two communities attacked each other with stones.
"Police fired three rounds and resorted to mild lathicharge to bring the situation under control. There was a full possibility of communal tension, but the situation was brought under control...DM and SP are camping at the site and Rapid Action Force has been deployed," the CEO said, adding two injured persons have been hospitalised.
An inquiry has been ordered and strict action will be taken against those responsible, he said.
An FIR was lodged against Hindustani Awam Morcha candidate from Sheohar Lovely Anand, a former Lok Sabha member, for obstructing polling at booth number 50.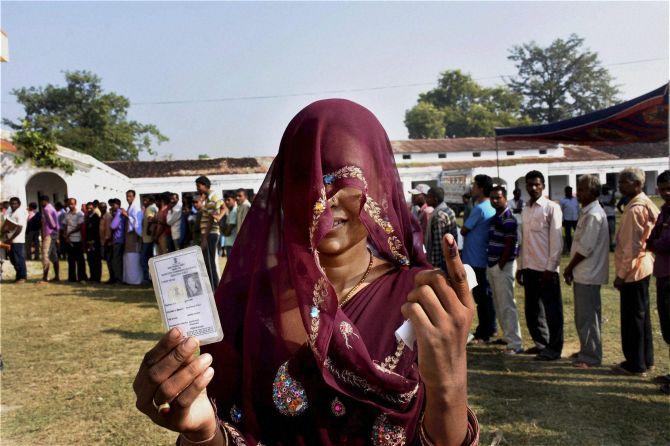 A voter shows her inked finger after casting vote during fourth phase of Bihar elections in Muzaffarpur on Sunday. Photograph: PTI
Polling resumed after a while following intervention by the concerned District Magistrate and Superintendent of Police, he said.
Nayak said Sub-Divisional Police Officer of Pakridayal in East Champaran district Vijay Kumar was taken off poll duty after he was found moving with JD-U candidate Shivji Rai.
The SDPO was asked to report to the Headquarters and replaced with another officer.
At polling station number 93 of Gaighat constituency in Muzaffarpur, three people tried to enter the polling station which was objected to by CRPF personnel leading to a clash between the villagers and security forces, he said.
A home guard Mahadev Prasad died of heart attack while on duty in Raxaul assembly constituency in East Champaran district.
Forty-nine people were arrested and 58 motorcycles and a car were seized by the authorities during the polling, Nayak said.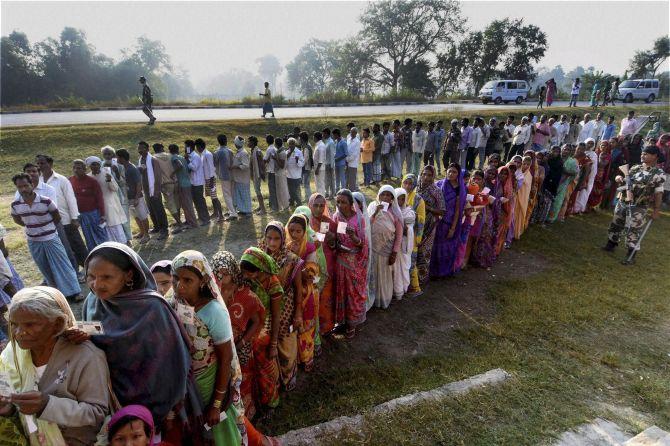 A security person guards as voters wait in queues to cast their votes during fourth phase of Bihar elections in Muzaffarpur on Sunday. Photograph: PTI
The voting percentage in the seven districts was: West Champaran 59.17 per cent, East Champaran 59.96 per cent, Sheohar 56.05 per cent, Sitamarhi 56.09 per cent, Muzaffarpur 56.83 per cent, Gopalganj 58.90 per cent and Siwan 54.31 per cent.
Nayak said a 108-year-old woman Chhathi Devi cast her vote at booth number 177 of Govindganj seat in East Champaran district, while 105-year-old Panwa Devi exercised her franchise in Barauli constituency of Gopalganj district.
A total of 776 candidates were in the fray in 55 constituencies, including 57 women.
Prominent among those whose electoral fate have been sealed in electronic voting machines are senior state minister Ramai Ram (Bochaha) and former minister and Hindustani Awam Morcha leader Mahachandra Prasad Singh (Hathwa).
With today's polling, voting in 186 seats has been completed in the four phases. The fifth and final round of polling would be held on November 5 for the remaining 57 seats in the 243-member Bihar assembly. Counting will take place on November 8.
Nayak said five helicopters and drones were used to keep a tab on the poll process while 50 mounted police personnel were deployed in general areas, 38 motor boats used for patrolling the riverine areas.
The polling ended at 3 pm in four constituencies of Sheohar, Riga, Runnisaidpur and Belsand while it ended at 4 pm in eight constituencies of Valmikinagar, Ramnagar (SC), Madhuban, Chiraiya, Dhaka, Minapur, Paroo and Sahebganj. Polling on remaining 43 seats ended at scheduled time of 5 pm.
Prominent personalities whose fate would be decided in this phase are senior minister Ramai Ram (Bochaha), Ranju Geeta (Bajpatti) and Manoj Kushwaha (Kudni). Rashtriya Janata Dal president Lalu Prasad's native village Phulwaria in Gopalganj district which is part of Hathwa constituency is also voting in this round.
Stakes are high for both grand secular alliance and the National Democratic Alliance in this round of polling.
In the last assembly poll in 2010, the BJP, which fought in alliance with Janata Dal-United, had won 26 out of 55 seats spread across seven districts of Muzaffarpur, East Champaran, West Champaran, Sitamarhi, Sheohar, Gopalganj and Siwan. Its then ally JD-U had emerged victorious in 24. RJD had won 2 seats and Independents 3.
But the scenario has changed this time. From the grand secular alliance camp, RJD has now fielded candidates in 26 constituencies followed by JD-U in 21 and Congress 8.
From the NDA, the BJP fielded its nominees in 42 seats in this phase, the Lok Janshakti Party in 5 and Hindustanti Awam Morcha and Rashtriya Lok Samata Party in 4 seats.