Earlier, an election used to be a political activity undertaken for its transactional value. Now the digital campaign has spawned heated Facebook debates. The election in Bihar will never be the same, reports Aditi Phadnis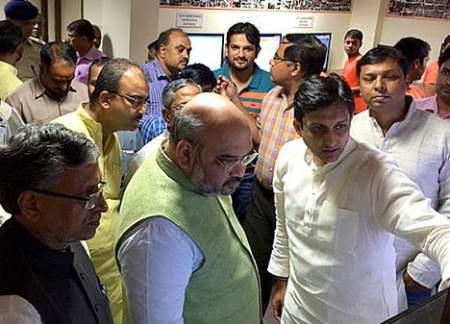 For Sudhir, these have been the most exciting three months of his life. "As an Android app developer in Bengaluru, I would wake up every morning, hang on to the bus strap, reach office, do something there, eat idli-dosa and come home. Now, I am working to jig my state with a mobile app that transmits real-time images from the remotest corner of Bihar," says the talkative 24-year-old.
"We have developed a system that can have multiple applications in the future. The additional plus is all the leaders that we come in contact with. I uploaded a selfie that I took with Amit Shahji (president of the Bharatiya Janata Party). All my friends on Facebook are saying: Wow!" he grins toothily, all six feet two inches of him.
Only a little older (and a little shorter), his boss, Rituraj Sinha -- an entrepreneur and a Bihari, the brain behind BJP's digital war room, says, more moderately, "It has been a learning experience".
Not far away, Medha is part of the rival war room that is run by the now-famous Prashant Kishore. Previously, the organiser of Narendra Modi's digital campaign in Gujarat, Kishore is now running a campaign for Nitish Kumar. He is something of a creative maverick.
The wall in the office says: "People shouldn't be afraid of governments. Governments should be afraid of people". The quote is from Alan Moore, the author of V for Vendetta.
"In a world without political freedom, personal freedom, and with precious little faith in anything, comes a mysterious man in a white porcelain mask, who fights political oppressors through terrorism and seemingly absurd acts. It's a gripping tale of the blurred lines between ideological good and evil," says the blurb of the book.
Kishore presumably sees himself as the man in the mask, a creative disruptionist.
Medha is an engineer, who earlier worked for the German multinational Siemens, and is currently on a sabbatical to work with Kishore, along with dozens of other youngsters leading a digital campaign for Nitish Kumar. "We work only for Nitishji, not the others in the mahagathbandhan (i.e., not Lalu Prasad)," clarified Medha. She is from Uttar Pradesh and has nothing to do with Bihar.
Eyes glitter in both war rooms. When Narendra Modi made a comment at a rally about "something" in Bihar's DNA that was off-kilter, it was Kishore's idea to collect locks of hair and nail filings, put them in baggies, load them on a truck and send the whole lot to the Prime Minister's Office, with the offer to test the DNA. "As an idea, it was good", says Manoj, part of Rituraj's team, about a rival campaign. "But," he adds judiciously, "we do have to ask ourselves what it achieved. Did it contribute even one bit in taking Nitishji closer to victory? I don't think so. All it did was costing a lot of money." The difference between the two campaigns is that Prashant Kishore is manned by non-political professionals. "We are BJP-minded. Our conviction drives us," says a young man on the rival team.
But both teams have contributed to making the Bihar election the most digitally-driven election ever. The BJP war room has used mobile phone technology to mount a 'creative' on to a truck (or a rath) and 240 of them are running around in a synchronised manner in the remotest corner of Bihar. The truck is usually parked near a school or a bazaar, it is contacted by a team from the BJP and then the local population is invited to watch. Where people cannot reach, ideas are transported on top of the truck. Initially the same technology was used to monitor a wall painting and the running of the NaMo tea stalls. All that has been suspended since the model code of conduct came into force. The fulcrum of the technology is marrying a camera on a truck with the GPRS and the Google Maps.
In the other camp, people are constantly thinking about ways to capture attention on social media. Kishore's efforts to have a bigger role in the campaign by assuming a political role has come a cropper. In feudal Bihar, there are no takers for brashness. Nitish's star bureaucrat R C P Singh serves as an interface and buffer between irascible khadi-clad politicians and the young men and women in the social media team.
On the other side, however, there is almost total integration, with Amit Shah personally micromanaging the digital campaign as well. "He is very, very sharp," says a team member about Shah. When a senior member of the team had to leave Patna for a day, he got a call from Shah. He assumed Shah wouldn't know he was not in Patna. After he had answered all the questions that Shah had asked and was about to put the phone down, Shah casually said "Hero, Patna wapas jaldi pahunch (leave for Patna soon)."
Both war rooms deal with data. Political strategies are not their domain. It is monitoring, making sure resources are optimised and no resource is going waste.
Young people are happy. Medha concedes she has a housing loan to pay off, but says the salary is on a par with any multinational firm. "Ho jata hai…" says Sudhir when asked about his insurance payments and petrol money. "As long as I get litti chokha…," he says with a grin.
The net result is that young people have been galvanised in this election like never before. Earlier, an election used to be remote, a political activity undertaken for its transactional value -- because of the idea that you work for your caste and if your candidate wins, you could get 'protection'. But the digital campaign has spawned heated Facebook discussions, much more involvement and debate.
The election in Bihar will never be the same again.

Image: BJP President Amit Shah is in-charge of the war room in Bihar