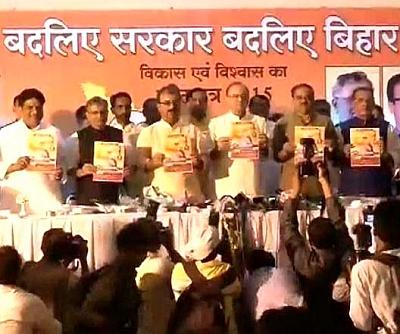 In a bid to woo voters, the Bharatiya Janata Party on Thursday promised laptops for students, colour televisions for Dalit and Mahadalit families, two-wheelers for girls and dhoti-sari for poor families annually if it wins the Bihar assembly polls and forms the next government.
This was revealed in the BJP's vision document, which was released in Patna by Union Finance Minister Arun Jaitley.
Speaking after releasing the vision document, which also raises slogans like 'Make in Bihar' and 'Digital Bihar', Jaitley said: The party plans to provide shops for unemployed youths by constructing shops at unused lands available."
"Our aim is clear -- we want to end jungle raj. And that will automatically happen if the BJP-led National Democratic Alliance comes to power," he said.
Jaitely said his party is committed to reservation for Dalits and OBCs.
"The BJP is in favour of reservation; we are committed to it".
BJP leader Bhupender Yadav, who is in charge of the party in Bihar, said the party's 'vision document' is aimed at development of Bihar.
Yadav said the vision document's main focus is on women and Dalit empowerment, education, jobs to youth and infrastructure development.