Congress leader Manak Agarwal's demand for a CBI inquiry into the godman's suicide has set off a controversy.
Prasanna D Zore/Rediff.com reports.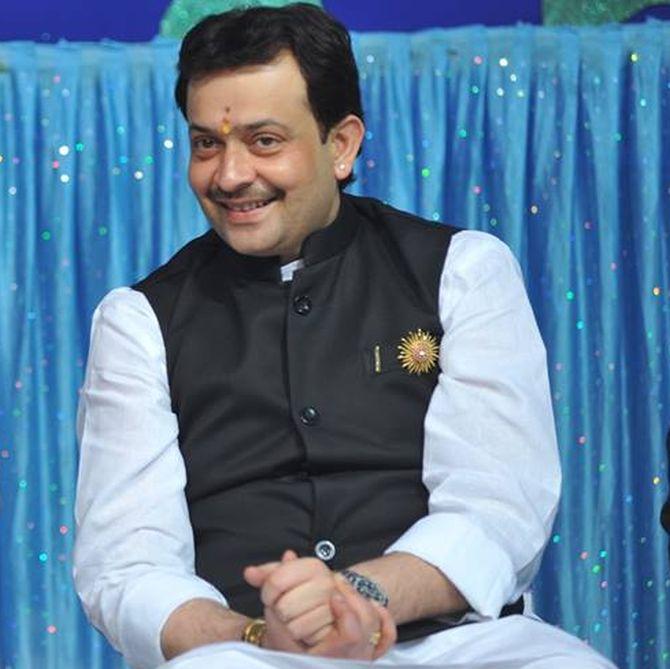 Spiritual leader Bhaiyyu Maharaj's suicide on Tuesday afternoon has led to a war of words between the Congress and the Bharatiya Janata Party ahead of the assembly election in Madhya Pradesh scheduled for later this year.
After Maharaj -- born Uday Singh Deshmukh -- shot himself in the head at his Indore home, the police reportedly found a suicide note in which he wrote he was 'stressed out' and 'fed up'.
Manak Agarwal -- the Congress spokesperson from Madhya Pradesh -- quickly jumped into the fray and demanded a Central Bureau of Investigation inquiry into the suicide, alleging that the guru was under pressure from the state government headed by Chief Minister Shivraj Chouhan and state BJP leaders.
Agarwal said he had spoken to Bhaiyyu Maharaj, who was known to many politicians, just a week before his suicide.
"About five to seven days ago, we spoke on the phone for quite some time. We share a very cordial -- personal as well as a family -- relationship. During this phone call, Bhaiyyu Maharaj told me about it ;(the pressure)," Agarwal told this correspondent in a phone call on Monday evening.
"Let there be a free and fair CBI inquiry and the truth will become evident. During this phone call, he also told me he was under pressure from BJP leaders to work for them," Agarwal added.
The Madhya Pradesh government had appointed Bhaiyyu Maharaj and four other spiritual leaders ministers of state. However, he refused to accept the post and the perks that came with it.
"BJP leaders were putting pressure on him to work for the party," Agarwal alleged, adding, "Being very spiritual, he refused to accept the offer and had been under pressure since then."
Congress leader Digvijaya Singh told ANI, 'Bhaiyyu Maharaj was worried about illegal mining in the Narmada by the state government and was offered the post of minister to shut his mouth. He rejected the offer and had told me about it on a call.'
The BJP, on its part, has termed the charges as baseless and accused the Congress of stooping to a new low by dragging the chief minister's name into the suicide.
"The Congress charge is a desperate attempt to win political brownie points ahead of an election in the state, and the people of Madhya Pradesh will teach them a lesson they will never forget for politicising the death of such a godly man," the BJP's MP spokesperson Rajneesh Agrawal said.
"Undoubtedly," Agrawal added, "we are all saddened by his unfortunate death and the step he took to end his life has shocked his followers."
"The Congress should have acted responsibly about the death of such a popular public figure, but with such baseless charges it has shown its crass insensitivity."
Bhaiyyu Maharaj, who has followers across the political spectrum, shot into the limelight in 2002 when he offered to safeguard Congress and Nationalist Congress Party legislators from Maharashtra, helping then state chief minister Vilasrao Deshmukh to win a trust vote.
Subsequently, at Deshmukh's request, Maharaj mediated with social activist K B 'Anna' Hazare over the impasse between the state government and him over the Right to Information Act and also played a significant role in convincing Hazare to end his indefinite fast in 2011 at Delhi's Ramlila Maidan for enacting a Lokpal bill.
He was also part of then Gujarat chief minister Narendra D Modi's sadbhavana fast in September 2011 and had, in fact, served the future PM lemon juice to end his fast.
More recently, Bhaiyyu Maharaj attracted attention when he first called and then cancelled a Narmada Ghotala Rath Yatra, an agitation to expose the Madhya Pradesh government's alleged corruption.
Shiv Sena chief Uddhav Thackeray, NCP leader Sunil Tatkare and Radhakrishna Vikhe Patil -- the Leader of the Opposition in the Maharashtra assembly -- are among the political leaders Maharaj knew personally.
Speaking about the suicide and the controversy over Mayank Agarwal's demand for a CBI investigation, Vikhe Patil said, "My personal opinion is that it is unfortunate to create controversies over such events. I don't know in what context he (Agarwal) raised this issue, but it is a local issue."
With inputs from Agencies