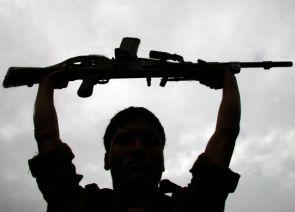 He is accused of providing shelter to the Maoists at a hostel in the university.
Bihar police on Sunday arrested the proctor of Tilkamanjhi Bhagalpur University and three others for his alleged link with Maoists and providing shelter to them, police said.
Professor Vilakhjhan Ravidas, proctor of TilkamanjhiBhagalpurUniversity, was arrested following information provided by a Maoist identified as Ghanshayam alias Ghoghan Da, who was earlier arrested by the police from a railway station.
The police has recovered a pistol, a mobile phone and Maoist literature from Ghanshayam's possession. During a two-hour interrogation, he told the police about Ravidas, based on which the professor was arrested.
"We have arrested Vilakhjhan Ravidas, proctor of TilkamanjhiBhagalpurUniversity, from his residence for his alleged links with the Maoists and for providing patronage to them," Bhagalpur superintendent of police Vivek Kumar said.
Police also arrested two Maoists Kapildeo Mandal and Arjun Paswan from the professor's official residence, the welfare hostel of the university. Ravidas was in-charge of the hostel, police said.
According to police, Ravidas was questioned about his links with the Maoists in past also. He, however, denied having any link with the Maoists.
Police officials are now interrogating the arrested proctor and three others.