Curfew was relaxed for six hours in Odisha's Bhadrak on Monday even as social media platforms remained blocked in the area and probe stepped up against rumormongers and into alleged abusive remarks on Hindu deities that triggered violence in the town.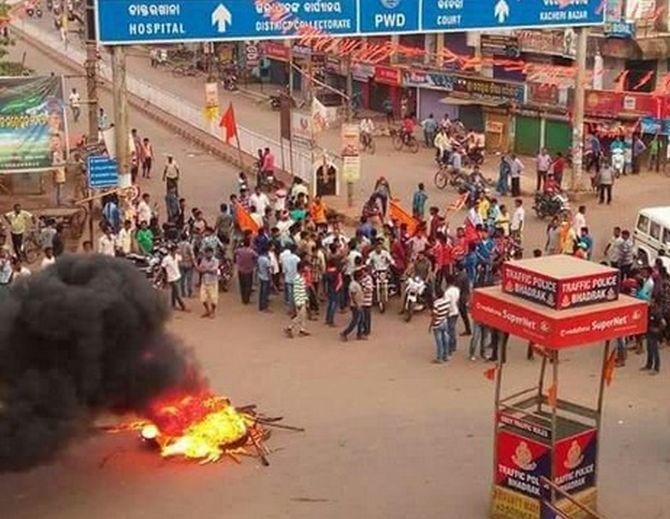 As the situation improved, the curfew, imposed on Friday, was relaxed initially from 8 am to 12 noon and later extended till 2 pm to allow people to procure essential commodities, Bhadrak Collector Gyana Ranjan Das said.
He said that the administration and security forces are keeping a close watch, and the future course of action would be decided after a review of the situation in the town where violence had erupted after some persons allegedly posted offensive remarks against Hindu deities on social media.
People queued up at shops to purchase essential items, police said, adding that the curfew would continue for some more time after the brief relaxation period.
Director General of Police K B Singh said that the situation was fully under control and normalcy restored in the town as shops, business establishments, offices and banks were open during the curfew relaxation period.
So far, eight cases have been registered and around 80 people arrested in connection with violence that took place in the town, he said.
Meanwhile, social media platforms remained blocked after the state government restricted access to these networks in Bhadrak town and nearby areas for 48 hours from Sunday night to prevent rumours from spreading, a senior official said.
State Chief Secretary A P Padhi, who has directed the police's Crime Branch to probe the rumours circulated through social media, said that no rumormonger would be allowed to instigate people and escalate tension.
A team of the crime branch has rushed to Bhadrak to probe the rumours and the alleged offensive remarks on social media that had triggered violence.
The cyber police cell is seeking information from people to track miscreants spreading hate messages on social media and strict action would be taken against them, Special Director General of Police-Crime B K Sharma said.
The crime branch, which launched probe into rumour-mongering on social media, has registered a case in connection with the matter, senior officials said.
The Rapid Action Force and the Central Reserve Police Force personnel had on Sunday staged flag march in sensitive areas, a senior official said.
Besides, three companies of RAF and two companies of CRPF, 35 platoons of police (around 1,200 personnel) have been deployed for maintaining law and order in the town, which witnessed violence on Thursday and Friday, he said.
As a precautionary measure, the administration has decided to keep educational institutions in Bhadrak closed today, a senior official said.
Prohibitory orders under Section 144 of the CrPC remained in force in nearby Dhamnagar and Basudevpur to prevent the spread of violence, a police officer said.
Violence had erupted in Bhadrak town on Thursday after a group staged a demonstration near the Town police station demanding immediate arrest of those involved in posting offensive remarks against Hindu deities on social media.
Though the district administration clamped prohibitory orders, tension persisted and fresh violence erupted on Friday despite a peace meeting called by the administration to restore normalcy.
The escalation in tension prompted the administration to impose curfew on Friday.
Photograph: ANI