UN Secretary-General Antonio Guterres has removed India from his annual report on the impact of armed conflict on children, citing measures taken by the Indian government to better protect them.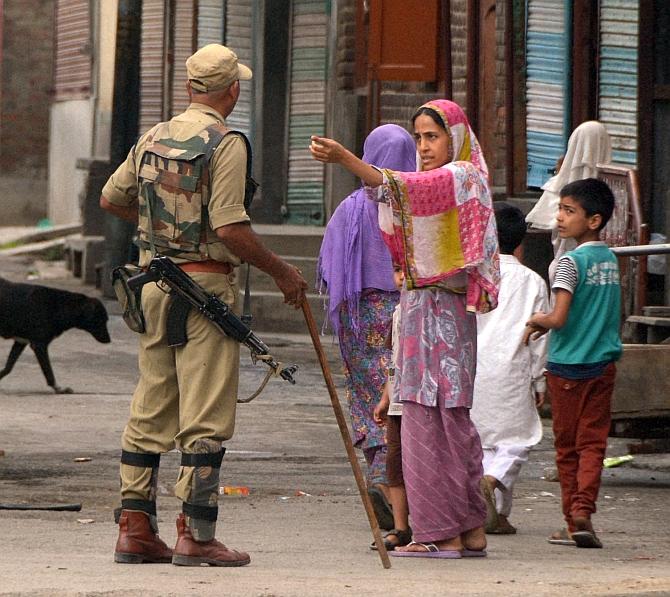 India was mentioned in the report of the Secretary-General on Children and armed conflict since 2010 along with other countries of Burkina Faso, Cameroon, Lake Chad basin, Nigeria, Pakistan, and the Philippines for alleged recruitment and use of boys by armed groups in Jammu and Kashmir; detainment of boys by Indian security forces in J&K for their alleged association with armed groups, or on national security grounds.
Guterres said in his report last year, he had welcomed the engagement of the Indian government with his special representative and noted that it might lead to the removal of India as a situation of concern.
In his 2023 report on Children and Armed Conflict, the UN chief said, "In view of the measures taken by the government to better protect children, India has been removed from the report in 2023."
Guterres highlighted the technical mission of the office of his special representative in July 2022 to identify areas of cooperation for child protection, and the workshop on strengthening child protection held in Jammu and Kashmir last November by the government, with the participation of the United Nations.
In his latest report, he also called upon India to implement the remaining measures identified in consultation with his special representative and the United Nations.
These include the training of armed and security forces on child protection, prohibition of the use of lethal and non-lethal force on children, including ending the use of pellet guns, ensuring that children are detained as a last resort and for the shortest appropriate period of time, Guterres said.
He also stressed the implementation of measures to prevent all forms of ill-treatment in detention and the full implementation of the Juvenile Justice (Care and Protection of Children) Act and the Protection of Children from Sexual Offences Act.
Briefing reporters on Tuesday, Special Representative of the Secretary-General for Children and Armed Conflict Virginia Gamba said that for the last two years, "we have been working very closely with India."
"India decided to start a prevention engagement," she said, adding the country indicated that it was ready to start engagement to see if it could put in place measures that could be sustained through time and would allow for it to be removed from the report.
In last year's report, Guterres had said he was concerned by the "increased number of violations against children verified in Jammu and Kashmir", and had called upon the Indian government to strengthen child protection.
The UN chief had welcomed the legal and administrative framework for the protection of children and improved access to child protection services in Chhattisgarh, Assam, Jharkhand, Odisha and Jammu and Kashmir, and progress in the creation of a Jammu and Kashmir Commission for Protection of Child Rights.
The Government of India had been consistently engaged in efforts to exclude the country's name from this ignoble list, the ministry of women and child development said in New Delhi.
It led to an agreement to appoint a national focal point to identify priority national interventions to enhance the protection of children, a joint technical mission to hold inter-ministerial, technical-level meetings with the UN to identify areas of enhanced cooperation for child protection, it said in a press release.
Under the guidance and leadership of Smriti Zubin Irani, Union minister of women and child development, a road map for cooperation and collaboration on child protection issues was developed by the ministry.
New Delhi had expressed concerns that the 2022 report included situations that are "not situations of armed conflict" or threats to the maintenance of international peace and security.
In his annual report on children and armed conflict released here Tuesday, Guterres said that globally in 2022, children continued to be disproportionately affected by armed conflict, and the number of children verified as affected by grave violations increased compared with 2021.
The United Nations verified 27,180 grave violations, of which 24,300 were committed in 2022 and 2,880 were committed earlier but verified only in 2022.
Violations affected 18,890 children (13,469 boys, 4,638 girls, 783 sex unknown) in 24 situations and one regional monitoring arrangement, it said.
The highest numbers of violations were the killing (2,985) and maiming (5,655) of 8,631 children, followed by the recruitment and use of 7,622 children and the abduction of 3,985 children. Children were detained for actual or alleged association with armed groups (2,496), including those designated as terrorist groups by the United Nations, or for national security reasons, Guterres said in his report.
The United Nations verified the killing (253) and maiming (656) of 909 children (732 boys, 177 girls), attributed to unidentified perpetrators (694), Islamic State in Iraq and the Levant-Khorasan (ISIL-KP) (112), the Taliban (98) and cross-border shelling from Pakistan (five).