Modi said unity and love are the basic mantras for addressing the Kashmir problem.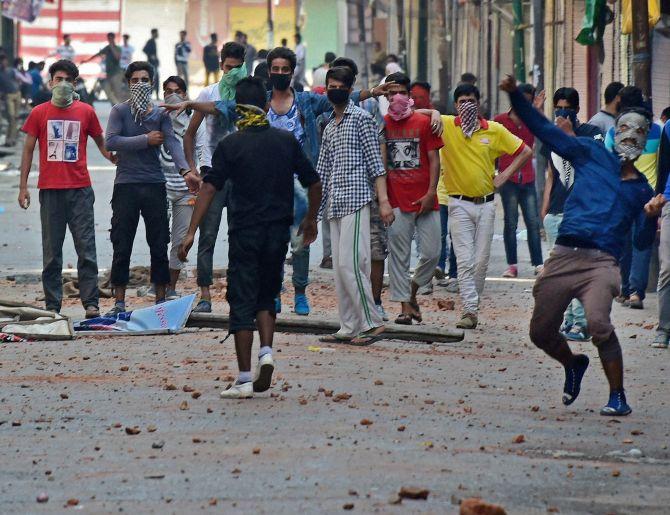 Prime Minister Narendra Modi said on Sunday that 'ekta' (unity) and 'mamata' (love) are the basic mantras for addressing the Kashmir problem even as he slammed those pushing children to create unrest, saying they will have to answer those 'innocent' kids some day.
He emphasised that if any life is lost in Kashmir, whether of any youth or any security personnel, 'that loss is ours, of our own country'.
Speaking on the unrest in the valley in his monthly radio programme 'Mann Ki Baat', Modi said, 'From the interactions I had with all parties on Kashmir, one thing emerged from those, which can be put in simple words as ekta and mamata. These two things were the basic mantra.'
He said all the political parties had spoken in one voice on Kashmir, sending out a 'message to the world as well as separatist forces', besides conveying 'our sentiments to the people of Kashmir'.

It is the view of all of us, the view of 125 crore people from a pradhan of a village to the prime minister, that if any life is lost in Kashmir, whether of any youth or any security personnel, that loss is ours, our own country.

He equated it to the passage of landmark goods and services tax bill by Parliament for which all the parties came together.
'It is the view of all of us, the view of 125 crore people from a pradhan of a village to the prime minister, that if any life is lost in Kashmir, whether of any youth or any security personnel, that loss is ours, our own country,' Modi said.
At the same time, he slammed 'those people who push small children to try to create unrest in Kashmir', saying 'some day, they will have to give answers to these innocent children'.
The prime minister's remarks came a day after Jammu and Kashmir Chief Minister Mehbooba Mufti met him and presented a 'three-pronged action plan' that includes dialogue with all stakeholders.
'This country is very big, full of diversities. To keep it united, it is the responsibility of all of us, as individual citizens, as a society and as a government, to strengthen the unity as much as we can, highlight it as much as we can. Only then can the nation achieve its bright future. I have confidence in the power of 125 crore people of the country,' Modi said.
During the 35-minute programme, the prime minister also referred to the recent Olympic Games and hailed the girl power as he referred to medal winners -- shuttler P V Sindhu and wrestler Sakshi. He also hailed gymnast Dipa Karmakar, who missed a medal by a narrow margin.
He said Indian participants in other events like hockey, shooting and boxing also performed well.
'But my countrymen, we need to do a lot more. But if we continue doing what we have been doing, then perhaps we will again be disappointed,' he said while mentioning about thousands of messages to him from people who wanted him to speak on the subject of sports in view of poor performance in Rio Olympics as they were badly disappointed.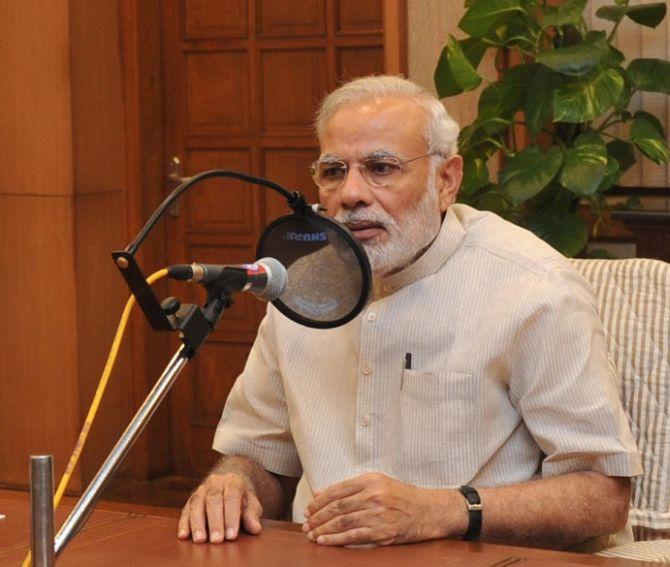 In this context, he referred to his recent announcement to form a Task Force under which the government will 'go deep' into the subject, study the best practices in the world and prepare a roadmap for the next three Olympic Games in 2020, 2024 and 2028.
'We have to formulate a long-term programme,' he said.
The prime minister asked the state governments also to form such committees to see what could be done to improve performances in sports. He said states can also send their suggestions to the Centre in this regard.
He said associations linked to sports should also do brain-storming in an unbiased manner.
Modi invited even individual citizens, with interest in sports, to write to him or the government.
'We should do all preparations and I am confident that the country of 125 crore people, 65 per cent of them youth, will move ahead with this resolve,' he said.
Meanwhile, former Jammu and Kashmir chief minister Omar Abdullah lauded the prime minister for taking up the Kashmir situation in his radio address, saying it was 'good to see' him continuing from where he left after meeting the opposition parties from the state.
'Good to see @narendramodi ji continuing where he left off after meeting opposition parities in Delhi last Monday,' the National Conference leader said on Twitter.
Reacting to Modi's observation on youth being pushed towards stone-pelting, Omar said it was due to 'our collective mistakes'.
'Unfortunately sir a lot of these youngsters have been pushed there by our collective mistakes and mishandling of J&K,' situation, he said.
Union Minister Jitendra Singh also said that those instigating the youth for so called 'jihaad' have kept their own children in safe havens.
"There is a need to educate youth in Kashmir against those working with vested interest to harm the country's unity," he said.
He also said that those who have lost their lives in the current turmoil in Kashmir valley belong to the poorest of the poor sections.
"And those who provoked these poor people to come forward and lay down their lives in the name of so-called 'Jihaad' have ensured that their own children and family are lodged in safe havens," Singh, who represents Jammu and Kashmir's Udhampur constituency in Lok Sabha, said.
The minister of state in Prime Minister's Office questioned those provoking youth to take up violent paths in Jammu and Kashmir in the name of jannat and asked why they don't offer their own children the opportunity to go to jannat, or paradise?
He said there should be no compromise in countering terrorism and the Centre is committed to take action against those inciting violence.
He hoped that the situation in KashmirValley will soon be normal.
Singh said there is absolute coordination between the Centre and Jammu and Kashmir government to resolve the situation in parts of the state.
He also attacked Pakistan for provoking turmoil in the Valley.