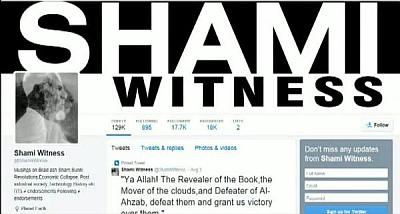 An executive living in Bengaluru has been identified has one of the biggest online recruiters of the terror group Islamic State, according the Britain's Channel 4 News.

In an exclusive report, published on Thursday, Channel 4 News claims to "unmask the man behind the top Islamic State Twitter account'.
Channel 4 News investigation has revealed that the man operating "pro-Islamic State Twitter account iscalled Mehdi and he is an executive in Bangalore working for an Indian conglomerate".

"His tweets, written under the name Shami Witness, were seen two million times each month, making him perhaps the most influential Islamic State Twitter account, with over 17,700 followers,' the report says. "Two thirds of all foreign fighters on Twitter followed him."
The report adds that he spoke to British jihadis regularly, before they leave to join the Islamic State.

But Mehdi has not joined the terror outfit. "If I had a chance to leave everything and join them I might have.. my family needs me here," he told Channel 4.
The news channel has not revealed his complete identity citing concerns of his safety, and the Twitter account was deleted after being contacted by the channel.
The report says on Facebook, Mehdi "regularly shares jokes, funny images and talks about superhero movies, posting pictures of pizza dinners with friends, and Hawaiian parties at work".
Image: A screen grab of the Twitter account

The rise of ISIS: Why India should worry

I don't want to live in this sinful country: Indian ISIS recruit