Nine passengers were killed and 18 seriously injured when nine bogies of Bangalore-Ernakulam Inter-city Express derailed on Friday after the train hit a boulder that fell on the track.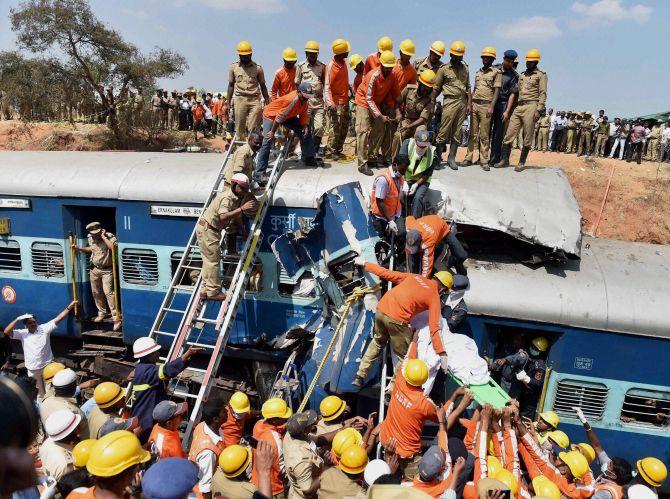 The daily train derailed at 7.35 am nearly 80 minutes after departure from Bengaluru between Anekal Road and Hosur on Bangalore City-Salem Section, on the border of Karnataka and Tamil Nadu, about 45 kilometre from the state capital, railway and police officials said.
The victims included five men, three women and a nine-year-old, Divisional Railway Manager Anil Kumar Agarwal said at the accident site, adding rescue and relief operation involved teams from railway, police, fire brigade and national disaster response force.
Soon after the mishap, Railway Minister Suresh Prabhu said in a tweet that a boulder fell on the track and the train hit it. "Prima-facie cause of the derailment was a boulder on the track," an official statement said.
Agarwal said the engine driver had told authorities that he heard a rumbling sound of a boulder.
Prabhu who had announced he would rush to the accident spot did not do so and visited the injured at a private hospital on Bengaluru outskirts and flew back. "I am on way to Bangalore to visit accident site to help all stranded," Prabhu had tweeted earlier.
He announced an inquiry "to fix responsibility" and a compensation of Rs 2 lakh for the families of the deceased, Rs 50,000 would be given to those severely injured and Rs 20,000 to those with simple injuries.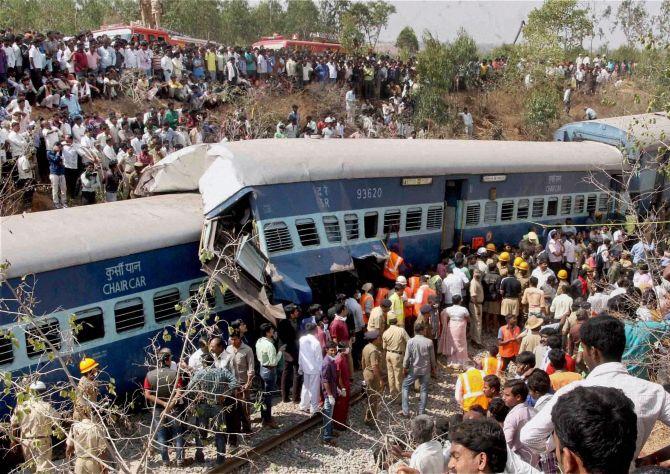 An inquiry into the mishap will be conducted by Commissioner Railway Safety S K Mittal.
Prime Minister Narendra Modi condoled the death of nine passengers, tweeting, "Saddened by the loss of lives due to derailing of Bangalore-Ernakulam Express. Condolences to the families of the deceased."
Karnataka Director General of Police Lalrokhuma Pachau said "the rest of those with minor injuries were given first aid and they have left the place".
Union Law Minister D V Sadananda Gowda, who was asked by Prabhu to rush to the accident site, said the injured were taken to hospitals in Anekal and Bengaluru.
Senior doctors from Railways are monitoring their status and progress by visiting all hospitals.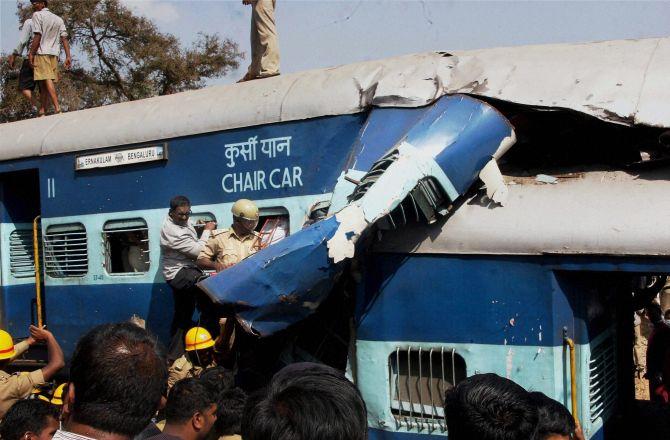 On the cause of derailment, South Western Railway General Manager P K Saxena said Commissioner of Railway Safety Mittal had visited the spot and he is the statutory person appointed to inquire into all this.
"He had a detailed roundup and apparently initially he couldn't pinpoint anything, and we also had multiple rounds along with DRM and we could not pinpoint any cause."
On the driver's statement that he heard a sound, Saxena said "he heard a sound but we are not very sure whether this sound was caused half a second after the derailment or half a second before the derailment, so that half second would determine..."
To a question on the rail minister not visiting the spot, Saxena said, "I really don't know. Firstly he visited the patients... He has given that a priority. Our former rail minister Sadananda Gowda visited here. Ananth Kumar (Union minister) is coming here... after all two union ministers are coming here. They have lot of sympathy for all this."
Bangalore city help desk numbers are 080 22371166, 080-22156553, 080-22156554, 9731666751.
Accident site number is 9448090599.