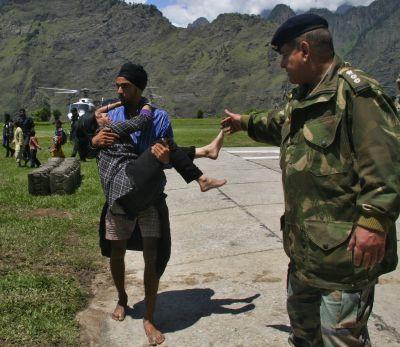 Anshu Gupta of Goonj, an NGO working in the area of disaster relief, lists out the dos and don'ts of being charitable and how YOU can be more helpful by being a little sensitive, reports Abhishek Mande.
A little past 10 pm on Tuesday, June 18 Goonj posted one of its first updates on Facebook in response to the Uttarakhand and Himachal Pradesh floods.
It was a war cry of sorts letting its 17,000 plus followers know that they were about to begin major relief operation for the devastating floods and landslides.
"Please make sure that we have enough material like dry ration, medicines, woolens, blankets, tarpaulins, financial resources for entire logistics," it read with a promise that they would be sending out a detailed appeal soon and an important rider of the things they DID NOT want as charity. "We certainly DO NOT need general clothing only as relief material and please make sure that collected material is not torn, dirty or expired."
Goonj is one of the more well-known NGOs that work in the area of resource mobilisation for far-flung villages. The initiative that was started by Anshu Gupta in 1998 with 67 clothes has today emerged as one of the biggest players in the field, sending out 80 to 100 tonnes of material every month across 21 states in the country.
The single update was shared by over 800 people in the next 24 hours and received several responses and queries -- some wanted to know details of drop-off points in their cities, some others wanted to help by offering their homes as a place to collect the relief material they hoped to put together. Even others wanted to contribute financially.
Goonj responded to each of these queries, patiently and precisely. In the hours that followed, Gupta called in a team meeting.
"We don't rush to the field immediately after any disaster and instead focus on creating awareness in the cities. We understand that in the initial days of any calamity it is the administration and the army that plays an important role," Gupta says over the phone from Delhi. "We step in later."
If there is one thing that Gupta's experience has taught him is that reacting immediately has never helped anyone. The key, he says, is long term commitment, which means working in the affected area long after the TV camera crews are gone and the last of the government official has packed his bag and returned to his office.
"A lot of people (who contribute to disaster relief) unfortunately only focus on contributing clothes. About 90 per cent of the relief material we receive is in the form of old clothes," he says.
Gupta points out that a lot of people see disaster relief as an opportunity to discard their old clothes. "What we don't realise is that when a disaster like this strikes the first thing that is taken away from people is storage space. Clothes need storage space and anything that needs to be stored becomes a burden in such a situation."
The other problem that Goonj, and indeed a lot of other orgnaisations working in this space, face is with the kind of clothes that they receive.
"Women in rural areas are not going to wear jeans and t-shirts. What they need are saris and blouses," he says.
"The government helps provides rice and food grains but with no utensils to cook it in, no amount of rice and water is of any help.
"You may read of potable water reaching affected villages. What it means is that a tanker has reached the village. It waits there for a day or two and moves on to the next village. If there are no buckets or drums, all the water goes to waste."
All these things are part of a small but critical gap that Goonj works towards filling.
"When you donate, you just need to be a little sensitive. Try and put yourself in the shoes of the people who are affected. Would you, for instance, wear a clothing you are not used to?" he asks.
Supply of sanitary pads and undergarments are two other areas that Goonj works in. They manufacture low-cost pads and undergarments and urge those who donate them to rather sponsor from their stock.
"It's easy to forget these things at such times. But they're just as critical as everything else. The reason we urge people to buy from us is because we make (pads) out of cloth and do not use polythene and plastic," he says.
For now, Goonj has created a hub in Rishikesh and the first truck containing essential goods is on its way. "From there, we will work with local partner groups and those who know the areas better", he says.
Most of the relief material that is on its way is from the organisation's stock. They haven't received a lot of material yet because the appeal went out only recently, but now Gupta is confident that the trickle will increase.
"Corporate houses will start their drives, local housing colonies will have their own. So we are bound to get more," he says.
In the days to follow, Goonj hopes to put up a list of FAQs, volunteer organisations in the area and a detailed list of medicines on its website 'so it works as a database for anyone wanting to help'.
But what do you contribute if you want to help?
Gupta lists out:
A lot of dry ration to begin with -- it could include biscuits, sugar, spices, rice, etc. Do not buy expensive ration. Quantity counts and as long as it isn't of substandard quality, it is alright.
Contribute basic medicines meant for fever, cold, cough or any kind of injury and to do with stomach ailments. There are bound to be water-borne diseases.
Consider donating cooking utensils such as pans, pots and buckets and to store water.
We also need woolens and blankets in large quantity because of the weather conditions there.
In clothing, children's clothing is crucial. Other clothes we have a lot of. Be considerate and thoughtful while giving clothes. Ensure they are clean.
Bed sheets, tarpaulins, candles torches matchboxes, batteries and ropes will be needed in large quantities.
We will also need feeding bottles (fresh, not used ones please) and milk powder.
Consider sponsoring the sanitary pads we make instead of buying from the market because we make them out of old cloth and they don't contain polythene as well as women's undergarments.
The one thing you need to remember is that people you are about to donate to have been through unimaginable trauma and the government agencies do not always make things easy. There will be a lot of negative reports coming out of the place and you need to trust the organisation you are donating to.
Sure, there will be crooks wanting to make a quick buck out of this, so it is important to pick the right organisation.
Be sensitive, be thoughtful and donate what is needed… not what you want to discard."
To help contribute, visit goonj.org
Image: A man carries a flood affected victim after they were rescued by the army in rain-devastated Uttarakhand
Photograph: Reuters