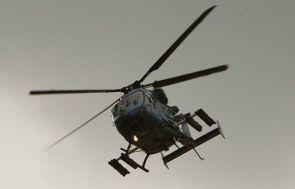 Over 300 persons were airlifted by the IAF and state choppers from various places in Himachal Pradesh's rain ravaged Kinnaur tribal district cut off by road due to landslides.
Over 550 persons have been airlifted during past three days and 400 people, who are still stranded, remain to be evacuated, Deputy Commissioner Kinnaur, Capt J M Pathania said.
Thirteen sorties were conducted for evacuating 301 persons from Sangla, Reckong Peo, Pooh, Nako and Gyabong, who were brought to Rampur, he said, adding efforts were afoot to airlift the remaining 400 persons.
Pathania said teams comprising of officers of Revenue, Agriculture, Horticulture, Animal Husbandry and other departments had been constituted at sub divisional level to assess the loss caused due to natural disaster.
Four teams each in Pooh Division and Kalpa and Nichar had been constituted and they had been asked to submit the report within two weeks to provide all possible assistance to the affected people, he said.
National Disaster Response Force had been sent to Ropa Kanda area for carrying out rescue and rehabilitation of about 12 shepherds along with their herd, Pathania said.
Meanwhile, Chief Minister Virbhadra Singh, who reviewed the situation at a meeting in Mandi, said heavy damages were reported in various parts of the state due to incessant rains, landslides and snow, particularly in Kinnaur, which suffered maximum loss of life, damage to roads and property.
The state experienced 155 per cent excess rainfalls and normal life was badly disrupted in Kinnaur and Sirmaur districts which received 1,229 per cent and 798 per cent excess rainfall, respectively.
Fourteen persons were reported dead in the state due to natural disaster, out of which 10 died in Kinnaur district, two each in Shimla and Sirmour districts.
Over 300 houses had been damaged and loss of over 130 cattle heads were reported as per preliminary reports.