Spanish police are in a race against time to find the van driver who ploughed into a crowd in Barcelona, after five terrorists wearing fake suicide belts who rammed civilians with a car in a second attack in a seaside town were shot dead.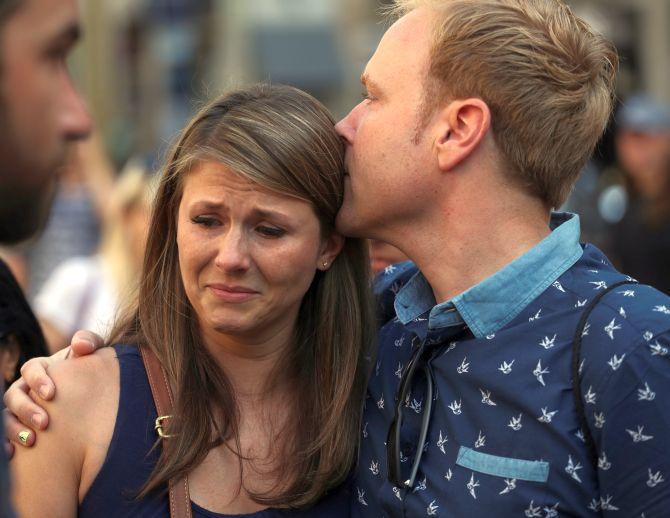 IMAGE: People react in the area where a van crashed into pedestrians at Las Ramblas street in Barcelona, Spain. Photograph: Sergio Perez/Reuters
The development came as the death toll from the attacks was raised to 14 after a woman who was critically injured the second attack in Cambrils in the early hours of Friday passed away.
The Islamic State has claimed responsibility for the attack. According to US monitor SITE Intelligence Group, the extremist group's propaganda outlet AMAQ claimed that the executors of the attack were soldiers of the Islamic State.
IMAGE: The suspected van is towed away from the area where it crashed into pedestrians at Las Ramblas in Barcelona, Spain. Photograph: Sergio Perez/Reuters
What happened:
A white van careered into terrified crowds on Las Ramblas, Barcelona's feted thoroughfare, when the street was packed with locals and tourists. The toll in the attack has risen to 14 while more than 100 injured. The driver of the van fled on foot and is believed to be still at large.
A businessman from New Orleans, who was just arriving in a taxi in Las Ramblas, was quoted as telling the BBC: "I heard a crowd screaming. It sounded like they were screaming for a movie star.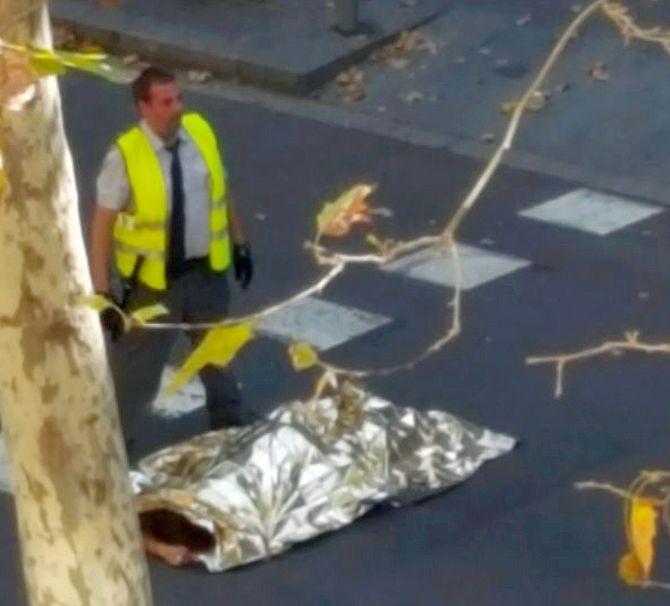 IMAGE: A security official stands next to a dead body at the scene. Photograph: Giselle Loots/Reuters
"I saw the van. It had already been busted on the front. It was weaving left and right, trying to hit people as fast as possible. There were people lying on the ground."
Later, a second attack took place at Cambrils in which seven people, including a police officer, were wounded when a car was driven into them early on Friday, Catalan emergency services said. One later died in hospital.
The attackers got out of the car and quickly started firing upon the police. Reports that they were wearing explosive belts were fake, Catalan regional head Carles Puigdemont later told local radio.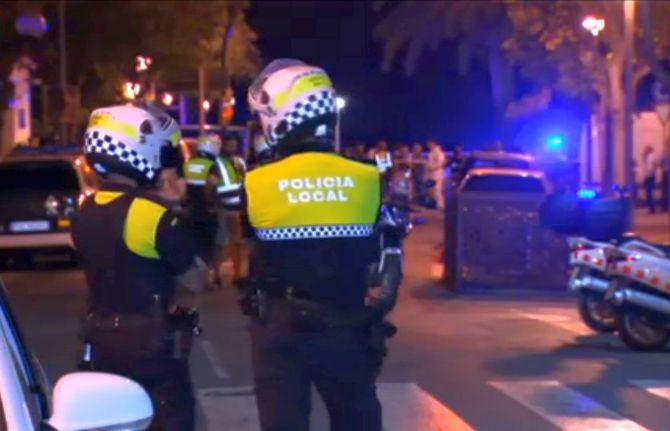 IMAGE: Officers investigate at the scene where police had killed four attackers in Cambrils, south of Barcelona. Photograph: Reuters TV via Reuters
The victims
The first named victim of the Barcelona attack is Bruno Gulotta, an Italian father of two young children, reports Helena Horton.
He was on holiday with his partner and two children -- one of whom is about to start school and the other is seven months old.
Gulotta was crushed to death on the Ramblas by the lorry while walking hand in hand with his 5-year-old son who his wife Martina managed to snatch to safety in the nick of time, she was quoted as telling friends.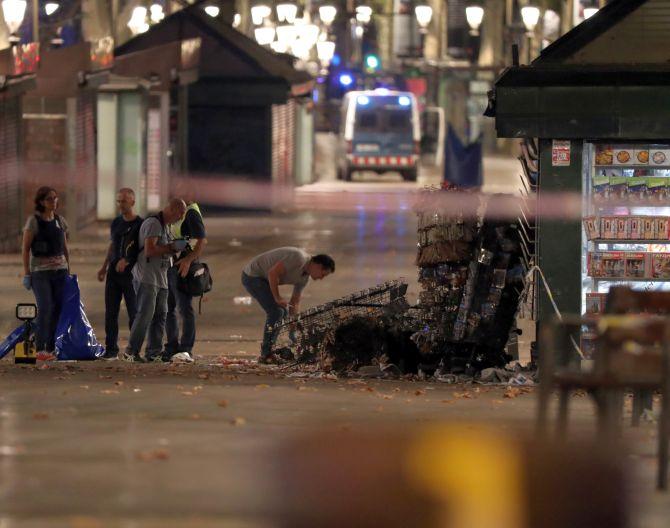 IMAGE: Forensic police officers search for clues near the area where the van crashed into pedestrians at Las Ramblas in Barcelona. Photograph: Sergio Perez/Reuters
France's foreign ministry said on Friday that 26 French nationals were injured, with at least 11 in a serious condition.
Thirteen German citizens were wounded, some seriously. A five-year-old Irish boy suffered a broken leg.
India's External Affairs Minister Sushma Swaraj has said that there is no report of any Indian casualty in the terror attack in Spain. External Affairs Minister tweeted that she is in constant touch with Indian embassy in Spain. She also asked Indians to contact the Indian Embassy in case of an emergency.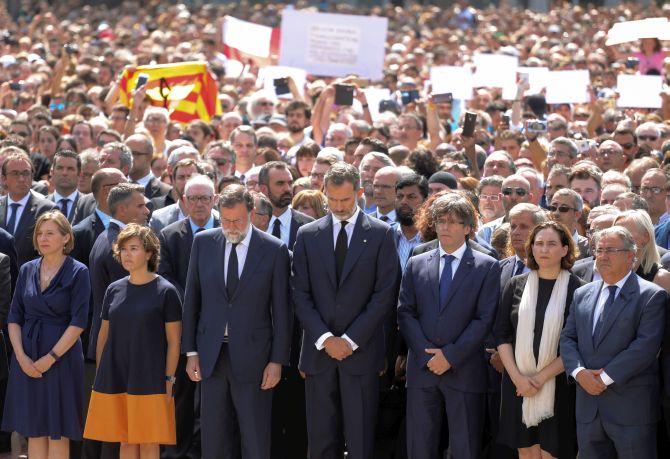 IMAGE: Spain's King Felipe looks down as he stands along politicians including Prime Minister Mariano Rajoy and President of the Generalitat of Catalonia Carles Puigdemont while they observe a minute of silence in Placa de Catalunya, a day after a van crashed into pedestrians at Las Ramblas in Barcelona. Photograph: Sergio Perez/Reuters
Indian Embassy's emergency contact number is 34-608769335.
Following the attacks, King Felipe led a minute of silence in Barcelona as thousands of people turned out holding Catalan flags to pay tribute to the victims.
This was the eighth terror attack using a vehicle in Europe in the past three years, following the Nice assault in July 2016 that killed 86 and attacks on Westminster Bridge and London Bridge earlier this year that left four and eight people dead. Earlier this year, jihadists warned that they would be seeking to take their campaign of death and destruction to popular areas in the Mediterranean.