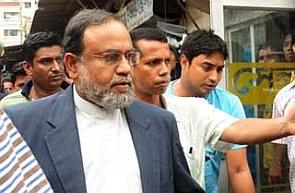 Bangladesh's Supreme Court on Tuesday upheld the death sentence of a top Islamist leader for war crimes during the country's independence struggle against Pakistan in 1971, paving the way for his execution.
Chief Justice Surendra Kumar Sinha announced the apex court's verdict to dismiss the appeal of Jamaat-e-Islami stalwart and media tycoon Mir Quasem Ali, who was convicted of murder and abduction during Bangladesh's liberation war.
"The sentence (death penalty) is maintained," Sinha announced in a crowded courtroom.
The decision of the five-member bench of the top court came 16 months after the country's International Crimes Tribunal sentenced 63-year-old Ali to death for atrocities committed during the liberation war in 1971. He had challenged the verdict.
He was convicted of running a militia torture cell, Al Badr, which carried out killings of several people.
The court found most of the charges against him valid, including carrying out murders and tortures siding with the Pakistani troops in line with the policy of Jamaat, which was opposed to Bangladesh's independence.
Ali headed a media corporation aligned with Jamaat before his arrest in 2012.
He was the Al Badr's third most important functionary after Jamaat-e-Islami chief Motiur Rahman Nizami and secretary general Ali Ahsan Mohammad Mujahid.
Political analysts said his funding helped the Jamaat secure a strong foothold in independent Bangladesh.
Officially, three million people were killed by the Pakistani army and their Bengali-speaking collaborators during the 1971 liberation war.
Ali faces the gallows within months unless his case is reviewed by the same court or he is granted clemency by the President.
Three senior Jamaat officials and a leader of the main opposition party have been executed since December 2013 for war crimes.