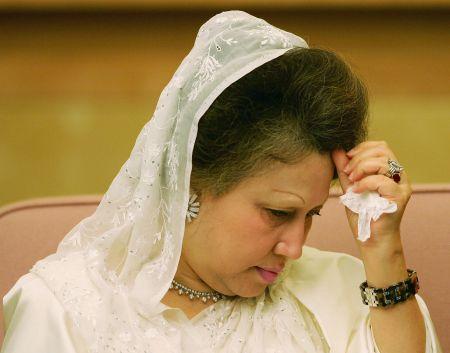 A Bangladeshi court on Wednesday upheld the arrest warrants issued against opposition leader and former prime minister Khaleda Zia in two graft cases involving over $ 650,000 (around 4 crore rupees) which could see her jailed for life.
Refusing to entertain the pleas filed by Zia's lawyer seeking withdrawal of arrest warrant issued against her in the graft cases, Abu Ahmed Jamadar of Special Judge Court-3 said the February 25 order on the BNP chief's arrest will remain effective.
The court fixed April 5 for the next hearing in the Zia Orphanage Trust and Zia Charitable Trust graft cases.
The Bangladesh Nationalist Party chief is accused of embezzling nearly $ 650,000 (around 4 crore rupees) in the two corruption cases during her last term as prime minister from 2001 to 2006 and could be jailed for life if proved guilty.
The judge also allowed defence counsel to represent Zia's 'fugitive' elder son Tarique Rahman who is also an accused in the graft cases, in the court in his absence.
Zia's lawyer had on Tuesday submitted two separate petitions in a special anti-corruption court seeking withdrawal of arrest warrant issued against her in the graft cases.
The Special Judge Court-3 is hearing the corruption cases against the 69-year-old former premier, her son Tarique and seven others.
The court had ordered Zia's arrest on February 25 after she repeatedly failed to appear for the hearings. Zia's lawyer had on Tuesday said that the former Premier will surrender in the court only if she would be given enough security and assurance for her safe return to her Gulshan political office without hindrance on bail.
"We respect the law. She (Zia) is willing to go to court if she has to...but she will go to court if she is given adequate security and an assurance that she will be allowed to return to her office," Zia's chief counsel Khandker Mahbub Hossain had told newsmen on Tuesday night.
Hossain added: "It is natural for her to feel insecure... we have reasons to believe she will not be allowed back to her Gulshan office once she gets out."
Zia continues to stay in her office at the upmarket Gulshan since the beginning of the current spate of violent unrest on January 5, coinciding with the first anniversary of the general elections, boycotted by her party.
Meanwhile, a number of foreign envoys in Dhaka, including US and EU ambassadors, last night met Zia at her office in their efforts to de-escalate the unrest amid fears that her arrest could intensify the political violence which has claimed over 114 lives in the last two months.