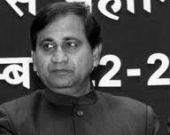 In comments that are likely to stoke a controversy, Congress leader Shakeel Ahmed on Wednesday said the blast near Bharatiya Janata Party's office in Bangalore will certainly help the opposition party politically on the eve of election.
"If the blast near BJP's office in Bangalore is a terror attack, it will certainly help the BJP politically on the eve of election," Ahmed commented on microblogging site Twitter.
At least 16 people, including 11 policemen, were injured in a bomb blast apparently targeting the Karnataka BJP city office ahead of the May 5 assembly polls.
Five civilians, including three women, were also injured in the blast, which was described as a "clear act of terror" by Deputy Chief Minister and Home Minister R Ashok, saying it was targeted at the party workers and its leaders.
"It is a very clear act of terror... It is targeted at the BJP, our senior leaders and workers", Ashoka said. "100 per cent, it is targeted at BJP workers".