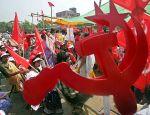 The gheraoing of West Bengal Chief Minister Mamata Banerjee and manhandling of her colleague Amit Mitra in New Delhi came in for all-round criticism, even from the Left whose supporters were involved in the unruly incident.
Prime Minister Manmohan Singh called up Banerjee to express regret over the protest faced by her on Tuesday at the Planning Commission where she was going to discuss the Plan allocation for West Bengal.
Singh called up Banerjee, chief of erstwhile Trinamool Congress, after she sought cancellation of a meeting scheduled with him, sources close to her said.
Union Ministers Manish Tewari and Kamal Nath also condemned the incident and appealed to political parties to exercise restraint.
"What happened yesterday should be condemned because such behaviour towards Chief Minister of any state is worthy of criticism and I condemn it," Parliamentary Affairs Minister Kamal Nath told reporters.
Information and Broadcasting Minister Manish Tewari termed the incident as "extremely unfortunate" and saidm "Whether it is our friends from the Left, or our friends in Trinamool Congress, or political parties across the length and breadth of this country, everybody needs to exercise restraint."
Congress in-charge of West Bengal Shakeel Ahmed condemned the incident as also the violence indulged in by Trinamool Congress in the state, saying "two wrongs do not make a right".
CPI(M) also "disapproved and condemned" this incident.
"The party will look into how this has happened," the party Politburo said in a statement after its meeting to review the situation arising out of yesterday's protest.
BJP President Rajnath Singh also condemned the incident and demanded strong action against those responsible. He also spoke to Banerjee.
"Whatever has happened with Mamataji and (West Bengal Finance Minister) Amit Mitra, I condemn it strongly...if anyone tries to lodge its protest by taking to violence, I feel the government should take stern steps against them," Rajnath Singh said.
Supporting Banerjee's contention that Delhi was not a safe place, the BJP chief used the issue to attack the UPA government over the law and order situation in the national capital, saying it was "slipping into a state of anarchy with each passing day".
Tewari said, "We should not allow violence either in language or in physicality to become a power in the political discourse...Every political party has a responsibility to maintain the discipline in the political discourse."
Protesters from CPI-M and SFI ambushed the chief minister and other ministers, including Finance Minister Amit Mitra, over the death of their comrade Sudipta Gupta in police custody in Kolkata last week.