Never in his long political career has the Union labour minister attracted such attention as he has in the matter of the Hyderabad student's suicide case, reports B Dasarath Reddy.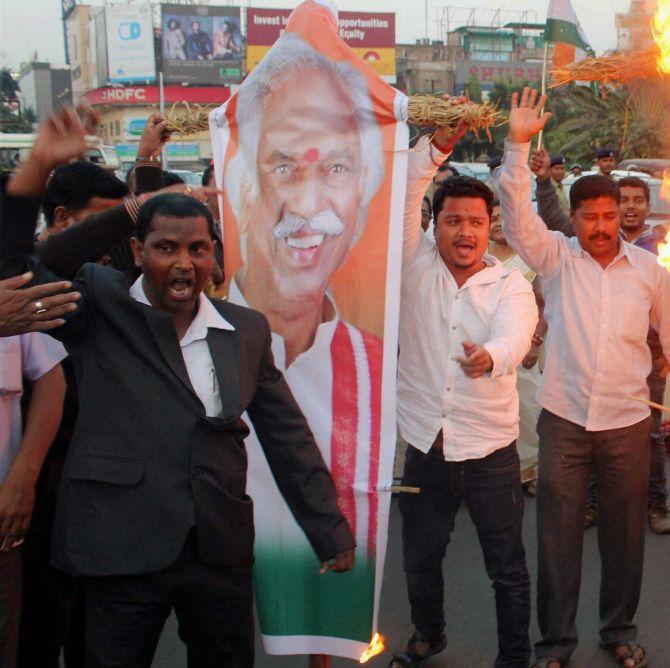 Congress workers protest and burn posters of Union Labout Minister Bandaru Dattatreya in the Hyderabad student's suicide case. Photograph: PTI
University of Hyderabad research scholar Rohith Vemula's suicide has reignited the opposition campaign against the alleged political interference in university affairs, with Union Labour Minister Bandaru Dattatreya's letter being presented as evidence.
Street protests in Delhi, Hyderabad and elsewhere have led a stream of political leaders to Hyderabad, many demanding the resignation of Dattatreya. He'd written to the ministry of human resource development asking that action be taken against Rohith and four others for allegedly assaulting a leader of the Akhil Bharatiya Vidyarthi Parishad, a body close to his political party. The rustication of these four and Rohith, and their expulsion from the hostel and suspension of Rohith's fellowship, it is alleged, led him to take the extreme step.
University authorities received five letters from the HRD ministry in a matter of two and half months starting September 3, 2015, all seeking to know what action had been taken on the issue raised by Dattatreya.

Never in his long political career, twice as Union minister, would Dattatreya, 70, have received this kind of attention. In Andhra Pradesh, he is better known for his simplicity and easy access to people and party cadre.
Dattatreya started as a pracharak (full-time worker) in the Rashtriya Swayamsevak Sangh during his younger days. While working as state joint secretary of the Loka Sangarsha Samiti, he was jailed during the 1975-77 emergency period. He joined the Bharatiya Janata Party in 1980 and has held various senior positions in it, including the state president, beside being a four-time MP.
He was elected to the Lok Sabha from Secunderabad constituency for the first time in 1991. He was re-elected in 1998 and served as Union minister of state for urban development. He won the election a third time from Secunderabad in 1999 and was again inducted in the Vajpayee government, first as MoS for urban development till 2001 and then as MoS for railways (2001-2003).

In the 2014 elections, he again won from Secunderabad and was inducted by Prime Minister Narendra Modi as minister of labour and employment, an MoS but with independent charge. The sole representative in the Union Cabinet from Telangana, he has preferred to spend most of his time in Hyderabad, taking part in local activities.

His elevation in the party was largely on account of cordial relations with senior colleagues from the state, such as Venkaiah Naidu. He also maintained good relations with leaders of other parties, particularly with N Chandrababu Naidu of the Telugu Desam Party, which was and continues to be a BJP ally.

As the controversy grew, Dattatreya put out his side of the story -- that all he had done was forward complaints he had got from locals about the behaviour of Rohith and others. The subtext is the need for the BJP to grow its political capital, both through the party structure and via student politics. The move is seen as having backfired, as Dalits are now questioning the BJP's commitment to their empowerment.