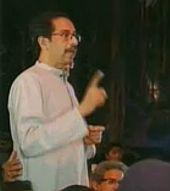 Shiv Sena supremo Bal Thackeray's condition is improving but still remains critical, even as hundreds of party workers and supporters continue to stand vigil at the ailing leader's heavily fortified bungalow Matoshree in Mumbai's suburban Bandra.
"Balasaheb is doing better every passing day due to the good wishes of the people," senior Sena leader and former Lok Sabha speaker Manohar Joshi told the media on Friday outside Thackeray's residence.
Though no medical bulletin has been issued ever since Thackeray's condition worsened on Wednesday night, a doctor attending on him said, requesting anonymity, "The situation remains largely unchanged. His condition is being constantly monitored."
He refused to part with any further information on how Thackeray's vital parameters were. He is said to be suffering from respiratory problems and is being administered oxygen.

The 86-year-old leader was taken off life support system on Thursday after he showed some signs of improvement.
Stepping out only for a second time since Thackeray's condition deteriorated sharply, his son and Sena executive president Uddhav did not give away much information about his father's health when he addressed party workers on Thursday night.

"Since yesterday (Wednesday), the Shiv Sena chief's condition is stable. I had said yesterday and I will say again today (Thursday), I have not given up hope. You too must not give up hope because we all are fighting soldiers of a fighting leader," he had said, adding, "Whatever treatment is possible, is being given."
No Shiv Sena leader, film personality or captain of industry visiting 'Matoshree' was being allowed to personally meet Thackeray.
Only Uddhav, his wife Rashmi and a team of doctors from the Lilavati Hospital are permitted inside the Sena boss' room on the second floor, sources close to the family said.
Meanwhile, people from the tinsel town, politicians and common Shiv Sena workers continue to throng 'Matoshree'. Prominent among those who turned up on Friday included yoga guru Ramdev and actors Suresh Oberoi and son Vivek.
Shiv Sainiks hailing Thackeray and chanting slogans like 'Jai Bhavani' and 'Jai Shivaji' remained gathered outside Thackeray's residence where there is huge security and media presence.
Also Read:
Stars, corporates and Aam Janta at Matoshree
Mumbai stays indoors over Thackeray's health