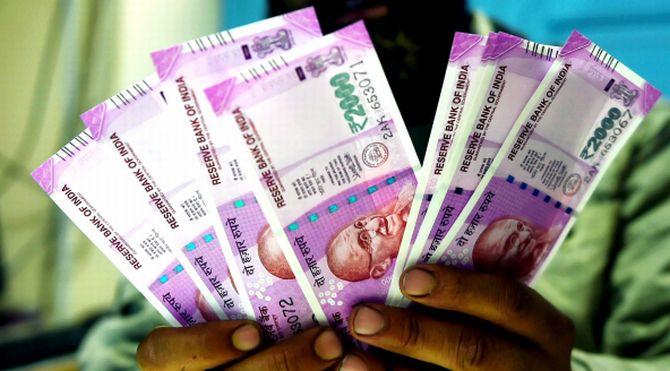 A senior assistant of Kolhapur Zilla Parishad in Maharashtra was arrested on Sunday for allegedly accepting a bribe of Rs 35,000, which contained 17 newly-introduced Rs 2,000 currency notes, Anti-Corruption Bureau officials said.
Chandrakant Sawardekar, 45, was apprehended by the sleuths of Anti-Corruption Bureau while accepting the bribe from the complainant, who was due for promotion as a principal in a Zilla Parishad-run school, an ACB official said.
According to the official, Sawardekar had assured help to the complainant by putting a fresh proposal of promotion to the zilla parishad administration. For this, he had demanded a bribe of Rs 40,000 and after negotiation, it was settled at Rs 35,000.
Following a complaint, a trap was laid and Sawardekar was apprehended while taking the bribe, which contained 17 newly-introduced Rs 2,000 currency notes, he said, adding a probe is underway.
Editors' point out:
If one does the math, new notes were available in banks and post offices from November 10, and, given the daily exchange limit, one could only exchange Rs 12,000 in three days.
The fact that someone could get 17 new Rs 2,000 notes amounting to Rs 34,000 -- almost thrice the limit set by the government -- in three days should also be probed.
Image for representation only. Photograph: PTI