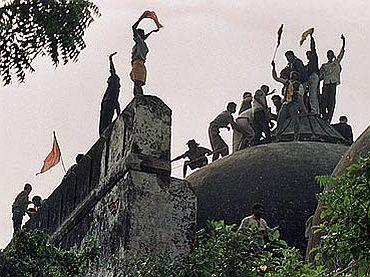 The Supreme Court on Wednesday allowed the Central Bureau of Investigation's appeal and restored criminal conspiracy charge against Bharatiya Janata Party leaders L K Advani and others
Following is the chronology of events in the 1992 Babri Masjid demolition case:
>> December, 1992: Two first information reports filed in the case. One against unknown kar sevaks for demolition of the mosque, the other named BJP leaders Advani, M M Joshi and others for allegedly giving 'communal' speeches before demolition.
>> October, 1993: The CBI files composite charge sheet accusing Advani and others of conspiracy.
>> May 4, 2001: Special CBI court drops proceedings against accused including Advani, Joshi, Uma Bharti, Bal Thackeray and others.
>> November 2, 2004: The CBI challenges before the Lucknow bench of Allahabad high court, the dropping of proceedings against BJP leaders on technical grounds. Court issues notices.
>> May 20, 2010: The high court dismisses CBI's plea. Says no merit in CBI's revision petition.
>> February, 2011: The CBI moves Supreme Court against the high court order.
>> March 6, 2017: SC indicates it may consider reviving conspiracy charge against the BJP leaders in Babri Masjid demolition case.
>> March 21: SC suggests fresh attempts to resolve Ayodhya dispute.
>> April 6: SC favours time-bound completion of trial in the case and reserves order on CBI's plea.
>> April 19: SC restores criminal conspiracy charge against leaders including Advani, Joshi and union cabinet minister Uma Bharti in the case and clubs the trial in the matter pending against VIPs and kar sevaks.