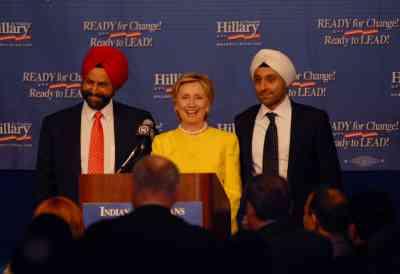 Democratic presidential candidate, Senator Hillary Clinton of New York, has said its imperative that "in this new era in which we live, the relationship and partnership between India and the United States, deepen and strengthen."
Speaking at a major fundraiser by Indian-Americans for Hillary 2008, organised by hotelier Sant Singh Chatwal, Clinton declared, "India is the largest democracy, the United States is the oldest democracy, and, together, we have a lot of work to do in the world, and I think you all understand it."
Over 1,200 guests paid from $1,000 to $2,300 apiece to attend the event at the Sheraton New York Hotel & Towers.
She said: "There is no problem we face in the world today where the United States can go it alone, or that India can go it alone. We must work together and we have to rebuild that sense of partnership and common interest that has unfortunately been eroded.
 "We must create more partnerships and relationships and it begins with deepening the partnership with India," she reiterated, and reminisced, "I had such a wonderful time on my first trip to India back in 1996 when my daughter and I were treated to some of the great sights like the Taj Mahal, but where we also visited institutions like those that gave micro-credit to women and could see the lives change."
Clinton added, "My husband then went as President and he and I have been back since, because we value the relationship and because we have so many friends here in the country of Indian-Americans."
She said: "It's certainly for me a great honor to be the co-chair of the India Caucus in the Senate and to work with so many of you on matters of mutual interest."
Clinton acknowledged: "I know, how difficult the job of president is at any time," and then to loud applause and whoops from the audience, said, "I understand that it's likely that India will have a women president, perhaps in the next month or so."
She spoke of how grateful she was to the Indian-American community 'for your generous contributions to my campaign,' and pledged: "I will work very hard to be a good steward of these contributions -- to get my message out around our country. To work constantly, to build a campaign that reflects the best of America."
Clinton spoke of how proud she was to have "not only so many Indian American supporters, but so many Indian Americans working on my campaign, and working to see that vision that we share for America. And, I know, that when I am sworn into office on January 20, 2009, there will be so much to do, but I am confident and optimistic that we are ready once again to roll up our sleeves and work to achieve the goals that America must set for the future."
At the outset, after thanking Chatwal for putting together the event and for his son Vikram Chatwal for introducing her, Clinton said: "I don't believe there's ever been a bigger event than  this one tonight from the Indian-American community."
Emphasising the importance of education, Clinton said, "Education starts in the family and strong families are a key to successful children doing well in school. And, one of the great accomplishments that the Indian-American community has demonstrated is the commitment to education and I applaud you," as once again the crowd erupted.
Among those present were Asia Society chairman and former senior Clinton Administration official Richard Holbrooke, who is strongly touted to be the Secretary of State if she wins the nomination and presidency, New York Democratic Congressmen Joe Crowley and Gregory Meeks, two people who have the largest Indian constituencies in their districts and Christine C Quinn, Speaker of the New York City Council, who Chatwal introduced "as the next mayor of New York City."
Before she came to the podium at approximately 9.30 pm, more than 400 guests, the majority of whom had paid $2,300 apiece and were on the VIP list, stood for nearly three hours in the Empire Ballroom of the hotel, sweating and mopping their brows for a photo opportunity with Clinton, who arrived late after being stuck in traffic on the Long Island Expressway.
But she was extremely gracious and although her handlers were trying to keep the flow of people moving at a quick pace, she did take a couple of minutes in conversation with people who engaged her in some dialogue even as they  wished her the best on her campaign while having their photographs snapped with her.
Among those who waited patiently to shake her hand were visiting Aviation Minister of India Praful Patel and several others VIPs like S P Hinduja, Naresh Goyal of Jet Airways, new age guru Deepak Chopra, famous knee surgeon Dr Chitranjan Ranawat, Asia Society President Vishaka Desai.
A few others like steel tycoon Lakshmi Mittal and Vijya Mallya, founder and head of Kingfisher Airlines, whom Chatwal had told rediff.com had confirmed their attendance did not make it, nor did Senator Clinton's chief campaign organiser and the former chairman of the Democratic National Committee Terry McAuliffe.
Patel told rediff.com at about 6.30 pm that, "I officially can't be at a [partisan political] fundraiser, so I am not going to be at the fundraising dinner and I've got a plane to catch in half-an-hour, but I am here because she's an old friend and so I just want to say hello and then I'll leave."
But he stayed on till she arrived more than two hours later and after meeting her, left.
Chatwal, told rediff.com that it "was a sell-out" and that he was expecting 1,200 people "and we had over 1,250 people," and that several people who wanted to attend couldn't be accommodated because the ballroom was full.
He said in terms of a ball-park figure, nearly $2 million was raised, which means the goal of $5 million he was shooting for in terms of the contributions from Indian-Americans for Hillary 2008, could easily be reached in the next few months.
Even before this fundraiser, $1 million had been raised.
Text: Aziz Haniffa in New York | Photograph: Paresh Gandhi