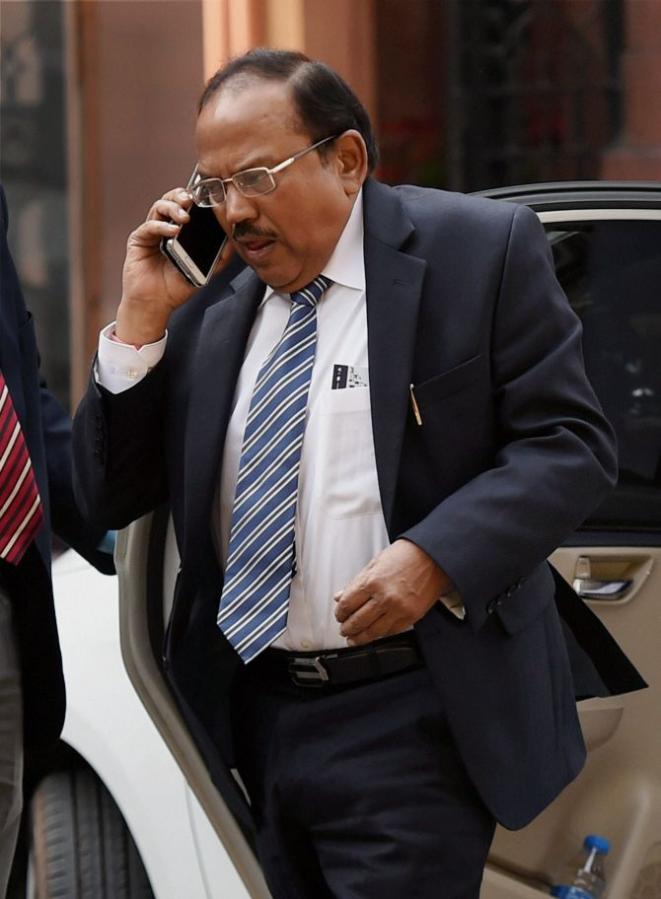 Besides the border question, India and China discussed issues related to counter-terrorism including Beijing's blocking of India's bid in the United Nations to ban Pakistan-based JeM chief Masood Azhar, National Security Advisor Ajit Doval said on Thursday.
Doval, who wrapped up the 19th round of the two-day boundary talks called on Chinese Premier Li Keqiang in Beijing and discussed the outcome of the discussion with his Chinese counterpart Yang Jiechi.
Welcoming Doval, Li recalled his meeting with Defence Minister Manohar Parrikar two days ago during which the both sides discussed the progress in bilateral ties.
"These meetings show smooth communication and close engagement between our two countries in political and security affairs. It also shows how both sides attach great deal of importance to ensure steady growth of China-India relations," Li said.
Later in a brief chat with PTI, Doval said that in the border talks with Yang, the two sides discussed the boundary question and other issues like counter-terrorism.
Asked whether Masood Azhar issue figured, he said: "Yes, obviously when terrorism is discussed".
India in recent weeks was vocal about criticising China for putting a "technical hold" on India's recent bid in the UN to bring about a ban on Pakistan-based Jaish-e-Muhammad chief Azhar for his involvement in the Pathankot terror attack.
Regarding Azhar, India's UN Permanent Representative Syed Akbaruddin spoke of "hidden veto" at a meeting at an open debate in the United Nations Security Council on 'Threats to International Peace and Security Caused by Terrorist Acts' in New York on April 16, while External Affairs Minister Sushma Swaraj and Defence Minister Manohar Parrikar called for a review of China's decision to strike a common stand against terrorism in their meetings this week with their Chinese counterparts.
For its part, China continued to stick to its stand, saying that its decision is based on facts and fairness.
On the talks over boundary, Doval said both sides want peace and tranquillity at the borders.
About India's emphasis that 3,488 km-long Line of Actual Control be demarcated to prevent tensions between troops on both sides patrolling the area aggressively, Doval said New Delhi's stand is the same for quite some time.
There is nothing new about the suggestions, he said.
Ahead of the talks, Parrikar told his Chinese counterpart Chang Wanquan that clarity over the LAC will bring down tensions between the troops on both sides which aggressively patrol the areas to assert their control.
"We are insisting it should be done in order to really ensure a very stable border as all the issues take place because of perception," he said.
Marking the LAC is "one of the preconditions of smooth border operations. Without that everything goes by perceptions, which has caused problems sometimes", Parrikar said.
This was highlighted by Prime Minister Narendra Modi both during the visit of Chinese President Xi Jinping to India in 2014 and his own trip in Beijing last year.
But China was averse to accept it and for its part suggested a code of conduct.
About the border talks, the Chinese Foreign Ministry said in a statement that both countries have agreed to adhere to "peaceful negotiations" to settle the vexed border issue and reach a "fair, reasonable and mutually acceptable solution".
Both Doval and Yang had an "extensive, deep and candid" discussion on the LAC.
Both sides agreed to adhere to "peaceful negotiations to settle the boundary question".
They will make efforts to reach a "fair, reasonable and mutually acceptable solution", it said.
Besides the border issue, Doval and Yang, the designated Special Representatives, also have a larger mandate to discuss all contentious bilateral, regional and international matters of mutual concern.
On the border dispute, officials on both sides say the protracted boundary talks made progress and that they also made attempts to avert tensions along the disputed border.
While China says that the boundary dispute is confined to 2,000 kms, mainly in Arunachal Pradesh in eastern sector which it claims as part of southern Tibet, India asserts that the dispute covered the whole of the LAC including the Aksai Chin occupied by China during the 1962 war.
When the Special Representatives were appointed in 2003, the two sides set off a three-stage process.
The two countries first reached an agreement on the guiding principles and setting political parameters for the settlement in 2005.
Officials say the two sides are currently in the second stage which focusses on working out a framework of settlement to be followed by final step drawing the boundary line based on framework agreement.
Doval and Yang are also reported to have discussed a range of issues including India's concern over $46 billion trade deficit with China in about $70 billion bilateral trade.