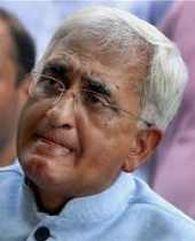 Uttar Pradesh Minister Azam Khan, who was briefly detained on Wednesday at a United States airport, on Sunday, accused External Affairs Minister Salman Khurshid of hatching a "conspiracy" to defame him outside India.
He even claimed that a call on continuation of Samajwadi Party's support to the UPA government will be taken by party leader Mulayam Singh Yadav after hearing his version and that of Chief Minister Akhilesh Yadav on their return to India.
"Our leader knows exactly what had happened and who is behind this and he will take a decision soon on the continuation of support to the UPA government," he said.
On Akhilesh meeting Tamil Nadu Chief Minister J Jayalalithaa in Chennai, Khan said formation of a third front with All India Anna Dravida Munnetra Kazhagam and Pattali Makkal Katchi could not be ruled out.
Mulayam Singh, he said, would lead such front, if and when it's formed, and would become the next prime minister.
Insisting that his situation should not be compared to that of Kalam, Shah Rukh, Indian Ambassador to the UN Hardeep Singh Puri or the then Indian envoy to the US Meera Shankar, Khan alleged, "It was a conspiracy because I am a powerful non-Congress Muslim leader of India and he (Khurshid) had cleverly planned with the help of the Department of Homeland Security using his clout as an Indian Cabinet minister.
"My detention at the Boston Logan International can't be treated on par with insults heaped on either former President APJ Abdul Kalam or actor Shah Rukh Khan as I was targeted by Khurshid and his coterie who had no guts to oppose me on Indian soil," he told PTI before boarding his flight to India.
"When I was in detention inside the airport, the Consulate General of India's protocol officers who had come to receive us acted like total strangers and silent spectators. I guess they must have got some instructions from their superiors to stay away," Khan alleged.
Maintaining that during the 45 minutes of his detention the protocol officials could have contacted the New York Consul General and the Consul General could have contacted Indian Ambassador Nirupama Rao in Washington, Khan claimed, "Nobody spoke a single word to get me out of trouble and I had to fend for myself."
"How can you expect the Government of India to protest when Khurshid is holding the foreign ministry portfolio? If you do not know who Khurshid is, then I am very sorry... He tried to defame me in my state and failed miserably. He is unfit to be Indian foreign minister," he alleged.
"Except the spokesman of the external affairs ministry who issued a routine matter-of-fact statement, did anybody holding responsible position in the central government condemn the incident? Does this sound weird? I am an Indian citizen first and a politician next. Will any other country keep quiet and act like this if their citizen or someone holding high office were insulted and humiliated," Khan asked.
Giving a ball-by-ball account of the incident, he said after he checked in at one of the immigration counters, the officer who was attending to visitors took his diplomatic passport and ushered him into an ante room.
The minister said he was made to sit alone on a bench for 45 minutes in the room. "I asked why was I being singled out in the team of 12 from India but got no answer."
"I asked them are you suspecting me because I am a Muslim. I was taken to the room while all others were cleared and I felt ashamed and humiliated. Only 24 hours before my departure for this country, the US Consulate issued me a multiple-entry visa for 10 years. Wouldn't have they made the necessary background checks whether I am a terrorist or not before issuing the visa? They also gave a 10-year multiple-entry visas to my wife and children," he said.
"After 45 minutes, the officers came to me and said, 'here is your passport and you can go'. I told them I won't leave the airport unless they tell me why they had detained me. Until you tell why you harassed me and caused mental agony, I won't leave the airport at any cost. They ill-treated and insulted me. If you do not know who I am you should have checked in India. I also told them that I refuse to enter the US and want to return to my motherland."
Khan said then a lady officer came to him and asked him to forget the incident and pack his bags and go but she did not either tender an apology or expressed regret.
"No questions were asked during my entire detention and I guess they were hatching a conspiracy but could not execute their game plans. If they had put a map of The White House in my pocket and pulled it out in front of other officers, I would not had any defence. They could question me how did I get the map of The White House and jailed me for life. I had no evidence and anything could have happened in the room. They wanted to execute some other game plan to fix me up but had no time or failed to do it," he alleged.
"I suspect some kind of collusion or understanding between the two governments to defame me. It could be like a joint military exercise as Indian politicians tried their best in India to fix me but failed. Even though I am a Muslim I managed Kumbh Mela well and got international recognition and they could not stomach it."