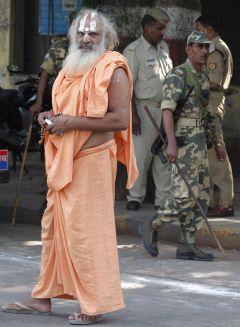 The twin towns of Ayodhya and Faizabad were on the edge on Saturday as tension escalated on the eve of Vishwa Hindu Parisha's yatra with the Uttar Pradesh government cracking down on the saffron outfit arresting some of its leaders and over 350 activists.
Security was beefed up as a defiant VHP declared that it would go ahead with the yatra which has been banned by the ruling Samajwadi Party government fearing a communal flare-up.
Mahant Santosh Das alias Sathu Baba, a VHP office bearer in Varanasi was taken into preventive custody while prominent VHP leader Mahant Ram Saran Das was held at Ram Sanehi Ghat in Ayodhya. Precautionary arrests were made in Kanpur city – 100, Kanpur Dehat -- 35, Banda -- one, Fatehpur -- 17, Allahabad -- 43, Faizabad -- 62, Balrampur -- one, Basti -- 18, Varanasi -- nine and Jaunpur -- seven, a senior home department official said in Lucknow.
Ashok Singhal, Pravin Togadia and Ram Vilas Vedanti were among the leaders against whom the warrants were issued, Faizabad district magistrate Vipin Kumar Dwivedi said.
A team led by the Faizabad district magistrate and senior superintendent of police also carried out searches at VHP's local headquarter Karsewak Puram, Mani Ram Chawni, the temple of VHP leader and president of Ram Janam Bhumi Trust, Mahant Nritya Gopal Das and about half a dozen suspected hideouts of VHP's activists in and around Ayodhya.
The district administration, which had earlier issued arrest orders against 70 prominent VHP leaders, has now issued warrants against 300 more activists. "We are conducting preventive arrests of prominent VHP leaders who may create law and order problems in the name of banned 84-Kosi Parikrama yatra," Dwivedi said. "First we had issued arrest orders for 70 VHP activists and now 300 more have came on our target. Those arrested will be detained at temporary jails, and will be booked under section 144 of CrPC," he said.
Faizabad SSP K B Singh said sadhus would be respectfully stopped from going towards Ayodhya.
The VHP has proposed to take out chaurasi kosi parikrama yatra between August 25 to September 13 to push for Ram temple at the disputed site. Samajwadi Party government has denied permission for the yatra. The yatra will go through six districts, including Faizabad, Basti, Barabanki, Gonda, Bahraich and Ambedkar Nagar. The district administration, which has decided to deploy nearly 2,000 security personnel tomorrow, is expecting about 40,000-50,000 VHP activists to take part in the yatra.
The UP government has sought help from neighbouring states in intelligence-sharing on the movement of activists of the saffron outfit. "Neighbouring states have been asked for intelligence sharing in wake of the proposed 84 kosi yatra of VHP on August 25," said R K Vishwakarma, inspector general, law and order. "Only those going for the yatra will be stopped," he said, but did not elaborate how they would identify such people.

Vishwakarma said besides 13 companies of PAC and three company of Rapid Action Force, two superintendents of police, 19 Additional SPs, 42 Deputy SPs, 135 inspectors, 430 sub inspectors and 1,300 constables have been deployed in Faizabad.
Meanwhile, the Lucknow bench of the Allahabad high court on Saturday dismissed a PIL filed against ban on the yatra. "The news of the high court dismissing the petition against ban on the yatra has been conveyed to the saints and mahants (head priests) and they have started deliberations on the future course of action... as of now there is no change in the VHP plan," VHP spokesman Sharad Sharma told PTI over phone.
"As of now, the yatra would start from the banks of Saryu river after puja on August 25 (tomorrow)," he said. Togadia appealed to the state government to allow the yatra, claiming it was not a political activity.
In Delhi, Leader of Opposition in Lok Sabha Sushma Swaraj said undertaking a yatra is a fundamental right of every citizen. "There is no tension due to yatra but it is because of all kinds of adverse statements being made. If people avoid making comments, yatra will be concluded peacefully," she said.
Uttar Pradesh Chief Minister Akhilesh Yadav had met legislators of Faizabad and adjoining districts on Friday and taken stock of the situation there. Though there was no restriction on movement of people in Ayodhya, all vehicles leading to Faizabad are being checked to restrict movement of VHP leaders for the yatra.
Image: A sadhu stands near a security bandobast in Ayodhya
Photograph: Reuters