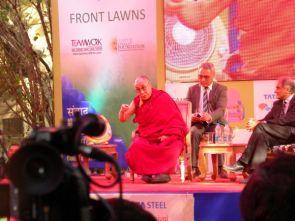 Two Nobel Laureates, four listed writers of this year's Man Booker Prize, Pulitzer Prize winners and finalists, winners of Commonwealth Writers' Prize, Crossword Prize and film stars will be the attraction at the most sought after literary event in India -- the Jaipur Literature Festival.
The annual literary festival, which begins on January 17 this year, has so far not only caught the imagination of literature and art lovers from across the nation and abroad, but has also attracted controversies since its inception in 2006.
Every edition shared its own controversies from the participation of controversial writer Salman Rushdie to the controversy over writer Ashish Nandy's comment.
However an unprecedented number of award-winning writers, drawn from over 19 different literary prizes, are set to descend on DiggiPalace on Friday.
Two Nobel Prize winners, Dr Amartya Sen (1998 Nobel Laureate in Economics) and Dr Harold Varmus (1989 Nobel Laureate in Medicine), as well as four listed writers from this year's Man Booker Prize -- Jhumpa Lahiri, Tash Aw, Jim Crace and Alison MacLeod will be attending. Other Man Booker Prize listed authors include Philip Hensher, A N Wilson and Justin Cartwright.
The Pulitzer Prize is well represented by Jonathan Franzen who was a finalist for The Corrections in 2002, Jhumpa Lahiri who won the Pulitzer for Interpreter of Maladies in 2000, as well as Mark Marzetti a Pulitzer winning journalist, who will discuss the work of the CIA. In addition to this Franzen is also the recipient of the National Book Award and the James Tait Black Memorial Prize, the UK's oldest literary prize.
The festival will also see two winners of the Commonwealth Writers' Prize, Rana Dasgupta and Vikram Chandra as well as Nayomi Munaweera, Tash Aw, Philip Hensher and Jhumpa Lahiri, who have all been listed for the prize.
This year's JLF will also play host to the winner of the DSC Prize for South Asian Literature 2014. The six shortlisted writers for the Prize are; Anand (Book of Destruction; Penguin India), Benyamin (Goat Days; Penguin India), Cyrus Mistry (Chronicle of a Corpse Bearer; Aleph), Mohsin Hamid (How to Get Filthy Rich in Rising Asia; Hamish Hamilton/Penguin India), Nadeem Aslam, (The Blind Man's Garden; Random House, India) and Nayomi Munaweera (Island of a Thousand Mirrors; Perera Hussein Publishing).
The winner of the US$50,000 award, judged by a panel led by literary critic Antara Dev Sen, will be announced by Indian Minister of State for Human Resource Development Shashi Tharoor at an award ceremony at the festival.
Besides them, film star and Jaipurites Irfan Khan, writer and poet Javed Akhtar, director Ekta Kapoor will also participate and take part in a session during the fest.
Former Tehelka editor Tarun Tejpal who was regular in all the editions of JLF so far will not be seen. His colleague Shoma Choudhary, also a permanent figure at the festival, is not in the participatory list this year.
Image: The Dalai Lama at the 2013 Jaipur Literature Festival
Photographs: Vaihayasi Pande Daniel/Rediff.com