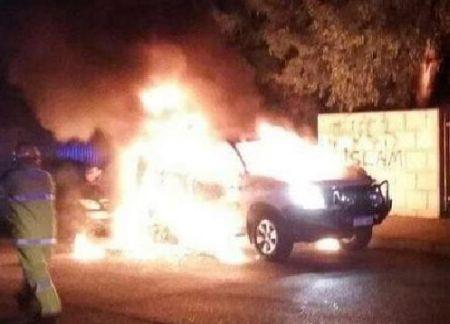 A mosque in Western Australia's Perth city was attacked late on Tuesday in what is being described as an anti-Muslim 'act of hate'.
Police in Perth confirmed that four cars were set ablaze outside the mosque, one of which exploded, while the mosque's imam said he suspected an accelerant perhaps a petrol bomb had been used.
Yahya Adel Ibrahim, the imam, said young children had been praying inside the mosque at the time of the attack, which he called an "act of hate."
The attackers also defaced the building with spray paint. The incident occurred after suicide bombers struck an Istanbul airport, killing at least 36 people, though it is not clear if the attackers were motivated by that tragedy.
Vandals also scrawled expletives remarks about Islam on a wall outside the mosque in Thornlie, Perth, which is adjacent to the Australian Islamic College. Hundreds of local Muslims had gathered there for evening prayers.
No one was injured in the attack.
Thornlie Mosque Imam Yahya Adel Ibrahim told CNN that worshipers had run outside when they heard one of the cars explode.
"Most people were in dismay and alarm, (asking), 'why us really? Don't they know that there are children inside?' This is a place of prayer," he said.
"The fear and apprehension -- the neighborhood is quite traumatized by it. This is a residential area, there are homes ten feet across the road."
Writing about the attack on his Facebook page, in a post which has been shared hundreds of times, Ibrahim said the attack was the act of a few individuals, not a whole society.
"This, undoubtedly, is a criminal act of hate," he wrote.
IMAGE: A screengrab of a video showcasing the car that was set alight. Photograph: YouTube