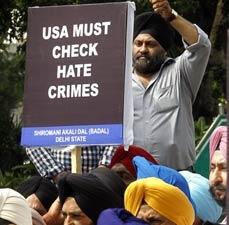 A man accused of brutally attacking an 82-year-old Sikh with a steel rod outside a Gurdwara in a suspected hate crime this month has pleaded not guilty to charges of attempted murder and abusing an elderly.
Gilbert Garcia, 29, is accused of attacking Piara Singh outside the Nanaksar Sikh Temple in southwest Fresno, which is located in the heart of the Central Valley of California that has a sizable Sikh/Punjabi population. The incident is being called a hate crime by the Fresno county district attorney's office, the Fresno Bee reported.

The attack happened just after 7 am (local time) on May 5 outside the gurdwara. According to the Fresno police, Singh was approached by a man on a bicycle armed with a steel rod. Without saying a word, the attacker beat Singh in the head and body. Singh suffered broken ribs, lung lacerations and head wounds in the attack.
Garcia is being held in lieu of $1.7 million bail. A hearing is scheduled for June 26.
The newly formed American Sikh Congressional Caucus is pushing the Federal Bureau of Investigation to investigate the case as a hate crime.
The incident had sent shockwaves not only among the Sikh community in the US, but also among Hindu-Americans and Arab-Americans. Meeting one of the long pending demands of Sikhs and Hindus in the US, Attorney General Eric Holder this month recommended widening the FBI's mandate to include Sikhs and Hindus among victims of growing hate crimes.
"The (justice) department recommended to what's called the advisory policy board last year that the uniform crime reporting be amended to include anti-Sikh, anti-Hindu, anti-Arab, anti-Middle Eastern categories in the ethnicity or race section," Holder had said.
Image: A protest against hate crimes in the United States